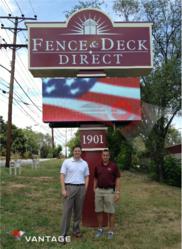 "We have a large contractor base, but also sell to locals. It's important to be able to get a message out quickly and easily because we don't have a lot of time off our feet here." Jeff Briles of Fence & Deck Direct
Baltimore, MD (PRWEB) July 18, 2012
Fence & Deck Direct opened its doors on April 15th. The owners wanted to ensure the business had a local appeal and utilized the best materials with a forward-thinking approach and the newest technologies. Jeff Briles was the immediate choice to head up Fence and Deck Direct. Jeff wanted to take a modern approach to building the business. Older methods such as mass-mailing and door-to-door sales calls are neither green nor economically-minded; wasted paper and ever increasing fuel costs are forcing businesses to reconsider their approach towards outreach.
A big consideration with their outreach approach is ensuring the community has events to rally around; Briles stated, "the owners of Fence & Deck Direct are heavily invested in the local community. Every year, we throw a Christmas party with a petting zoo and various attractions for families. There's no charge aside from us asking families to bring a donation which will be sent to support our troops abroad. We wanted to take our local approach one step further and find a way to reach out to everyone directly."
Briles considered various advertising approaches and decided to reach out to Triangle Sign & Service for help. The sign had to have traditional signage (showcasing the business name) but needed a blend of new technology to allow them to reach out to the community and contractors. Briles said, "We have a large contractor base, but also sell to locals. It's important to be able to get a message out quickly and easily because we don't have a lot of time off our feet here."
Zach Fener, sales rep. for Triangle Sign & Service, quickly responded to his request. Briles described Fener as a knowledgeable, honest and strong resource for innovative approaches to signage solutions. Triangle Sign & Service sourced the solution from Vantage LED, a Programmable LED Sign manufacturer based in Corona, CA.
Knowing the system was manufactured in the USA was important to Fence & Deck Direct. "There are so many businesses selling LED signs coming directly from China, we wanted to make sure we were getting a solution which was made and supported in the USA." said Briles.
When asked about his experience with Triangle Sign & Service and the Vantage LED system, Briles replied, "The software is incredibly easy-to-use and the support has been phenomenal. We had a minor problem with our temperature probe [a loose connection]. As soon as I called with the problem, Triangle Sign & Service responded with service technicians on-site and I received calls from both Vantage LED's technical service department and their System Specialist ensuring I was being taken care of."
Fence & Deck Direct is taking a forward-thinking approach to reach more of their local customer base and pass on the savings to their clients. By integrating the newest technologies, communicating directly to their customer-base and the local community are all now a simple mouse click away for Fence & Deck Direct thanks to Triangle Sign & Service powered by Vantage LED.