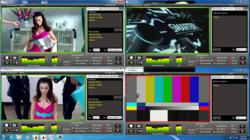 Clearwater, Florida (PRWEB) July 14, 2012
Vela Research announced two versions of its versatile ArgoNavis SDI & VANC Multi-Viewer – the Dual, which enables operators to view, monitor, log, record and analyze video and audio content and levels for two channels simultaneously in real time, and the Quad, which enables the same functionality for 4 channels. The ArgoNavis Multi-Viewers provide a very cost-effective solution for call letter stations and other broadcasters, cable operators, content creation, editing and handling studios and hosting locations to ensure the quality, integrity and regulatory compliance of the programming they broadcast, distribute, create or manipulate. One key element of the functionality of these solutions is a robust ability for LKFS measurements, analysis, real-time monitoring and action – as well as elaborate, continuous and comprehensive logging to create the records and documentation crucial to proving compliance if you are ever audited by regulators or receive a complaint from the viewership.
The ArgoNavis Universal Multi-Viewer system is an advanced professional solution that is designed to be deployed easily, to work continuously, to scale easily and to be operated intuitively. The solution provides not only a very high quality real-time viewing and monitoring capability for all of your channels or programming, but also generates the raw data, metrics and measurements that are displayed in real-time to enable prompt response to emerging situations needing attention. Further, the system enables the data and metrics to be logged for record-keeping purposes in an efficient, cost-effective manner, allowing broadcasters, cable operators, IPTV and OTT providers to prove compliance at any past moment in time, when necessary.
The ArgoNavis system also allows operators to monitor multiple video streams in real-time with a "snapshot" feature that enables them to capture a specific video frame as a bit map for reference, distribution or discussion.
Eight (8) channels of embedded audio can be monitored per channel with real-time amplitude and LKFS measurements provided for each programming source for confidence monitoring and CALM Act compliance. The logging feature of the ArgoNavis Multi-Viewer logs date and time stamped data of LKFS loudness measurements up to every 100 milliseconds for proof of compliance. A detailed spec sheet can be found here.
Kevin Grubbs, Vela's Director of Engineering said, "the ArgoNavis Multi-Viewer solution also decodes and monitors various types of VANC data including 608 and 708 closed captions, Active Format Descriptor, Broadcast Flag and Dolby Audio Metadata in real-time. For reporting purposes Users can easily graph the logged LKFS measurement data. Customers of the ArgoNavis Multi-Viewer system can easily configure email, text alert and file transfer (FTP) settings to enable it to communicate, alert or archive information to other workstations, phones or NAS devices."
Mike Reddy, Vela's President said, "the ArgoNavis Multi-Viewer seamlessly integrates into existing workflow environments in broadcast studios, cable master control, post-production studios, and most types of content-preparation and distribution sites. The comprehensive, multi-featured aspect of the ArgoNavis solution eliminates the time, expense and disruption of re-capturing or monitoring video content in order to measure, monitor or analyze different aspects of the video such as 608 or 708 Closed Captioning, Audio Metadata, audio levels and LKFS measurements – and provides operators with much greater flexibility and capabilities than ever before."
Users in the broadcast, cable, content distribution, post-production, education and digital signage interested in further information or in test-driving the ArgoNavis Transcoding solution are invited to contact Kevin McDowell at 954-558-2063 (kmcdowell(at)vela(dot)com).
About Vela: Vela® is an Emmy® award winning company offering a complete range of high quality SD and HD products for the broadcast, cable, post production, enterprise and education markets. Vela designs and manufactures system and board level solutions used in a variety of media applications. The board level products are also integrated into advanced systems and video servers offered through Vela and its partners. Over the past 18 years, Vela has earned recognition by virtue of the trouble-free, high-performance and cost-effective solutions in use in demanding customer environments worldwide. Vela is based in Clearwater, Fla., USA, and is on the web at http://www.vela.com.