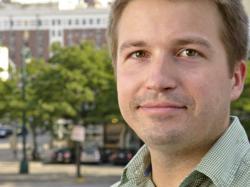 "We have a lot of pride in Buffalo and a great deal of confidence in Dan Magnuszewski's ability to make Z80 Labs an important play for Buffalo's tech industry." -- Ron Schreiber, co-founder of Z80 Labs and partner at Softbank Capital
BUFFALO, NY (PRWEB) July 16, 2012
Softbank Capital, The Buffalo News, Campus Labs, PC Business Solutions and Synacor today announced that Dan Magnuszewski has joined the Z80 Labs Technology Incubator initiative in Buffalo, NY as Chief Pi, Chief Principal Innovationist. Magnuszewski brings a wealth of expertise in software engineering and enterprise management from companies such as Synacor and M&T Bank.
Magnuszewski will be the driving force behind the growth of Buffalo's technology startup community by uncovering innovators currently working with local area startups on market-disrupting ideas. Additionally, he will spur their success by leveraging Z80 Labs' extensive mentor network, services and events.
"I'm thrilled to be a part of the Z80 Labs initiative to attract, retain and discover the best talent in the Buffalo area while creating an environment where these innovators can thrive and learn from the best names in technology," said Magnuszewski. "We hope to inspire local talent to build the next great tech company here in our own backyard versus Silicon Valley or Silicon Alley."
Most recently, Magnuszewski has been working with early-stage startups (Doolli, Inc.) as a data architect and software engineer. Prior to that, he was a senior engineer on Synacor's TV Everywhere platform and held positions at M&T Bank and The Perl Foundation. As co-organizer of Buffalo OpenCoffee Club and Buffalo Startup Weekend, and co-founder of CoworkBuffalo, Magnuszewski is an active member in the Buffalo community. He also serves on the University at Buffalo's Computer Science Advisory Council, the WNY Computer Science Teachers Association and is a tech mentor for the Student Sandbox at The Syracuse Tech Garden.
Ron Schreiber, co-founder of Z80 Labs and partner at Softbank Capital said, "We have a lot of pride in Buffalo and a great deal of confidence in Dan Magnuszewski's ability to make Z80 Labs an important play for Buffalo's tech industry. He's the right leader and it's the right time to build a successful Net-focused ecosystem in WNY, sparking the local economy by creating new companies and keeping our local talent right here in Buffalo."
Z80 Labs' main focus will be digital media, mobile and Net-based companies, providing valuable support across a wide range of service areas to help Buffalo-based entrepreneurs grow into self-sustaining businesses.
Founders Jordan Levy and Ron Schreiber will be co-hosting the launch of Z80 Labs on Monday, July 23 from 4:00pm to 6:00pm at The Buffalo News, One News Plaza Suite 10, Buffalo, New York. Famed Venture Investor, Fred Wilson, will make a special appearance at the grand opening, and also will speak at Z80 Labs' very first "Feeding Innovation Speaker Series" on Tuesday, July 24, from 11:30am to 1:00pm, at Burchfield Penney Art Center, Buffalo State College.
Several luminaries have committed to help the Z80 Labs incubator including Brad Feld, Foundry Group; Bijan Sabet, Spark Capital; Eric Hippeau, Lerer Ventures; Roger Ehrenberg, IA Ventures; Woody Benson, Prism VentureWorks; Mo Kaufman, Spark Capital; Jonah Peretti, Buzzfeed and co-founder of The Huffington Post; Jordan Cooper, Hyperpublic; Dan Porter, OMGPOP; Mark Pincus, Zynga; Gary Ginsberg, Time Warner; Mike Perlis, Forbes Media; Jim Spanfeller, Spanfeller Media Group; and Andrew Siegel, Advance Newhouse.
Additionally, the Z80 Labs Investment Committee will serve as a selection committee, meeting regularly to review and accept top applicants. The founding committee is Jordan Levy; Ron Schreiber; David Kimelberg, CEO of Seneca Development Corporation; Ron Frankel, president and CEO of Synacor; and Eric Reich, co-founder and CEO of StudentVoice.
For more information or specifics about how to apply to Z80 Labs or to request an invitation to the Grand Opening festivities July 23-24, please visit Z80Labs.com.
About Z80 Labs
Z80 Labs, launched in summer 2012, is Buffalo's first Internet-focused technology incubator, providing entrepreneurs the ability to build new and innovative tech companies in Buffalo, New York. Startups invited to locate in Z80 Labs are given a wide array of services including office space, tech support, collaboration tools, weekly education programs, specifically-assigned mentorship teams, access to the Z80 Speaker Series, amenities and infrastructure from local companies, as well as expert advice from renowned industry advisors. Z80 Labs is funded by Softbank Capital, with additional funding from SCP Incubator via a grant from New York State and ESD. Corporate support is being provided by The Buffalo News, Campus Labs, PC Business Solutions, and Synacor. Z80 Labs is located in The Buffalo News headquarters in downtown Buffalo.