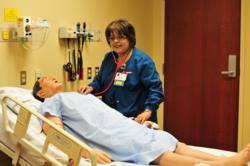 DeKalb, IL (PRWEB) July 16, 2012
The newly built Simulation Lab at Kishwaukee Community Hospital welcomes nurses and doctors to train in a realistic setting. Simulation labs are not a new concept, commonly found in nursing and medical schools, but are in only a few hospitals.
Pamela Duffy, vice president of Patient Care Services, said it is unusual for hospitals the size of Kish to provide such a high level of clinical training.
"Our administration, along with the KishHealth System Board, felt it was important to create such a technologically advanced setting within the hospital as an extension of our commitment to quality patient care at the bedside," Duffy said.
Clinical professionals from both Kish and Valley West Community Hospitals and other health system facilities will use the lab. The lab also can be used to train emergency medical services and nursing home personnel, and to expose high school students to careers in healthcare, Duffy said.
DurRay Sanchez-Torres, KishHealth System's clinical development coordinator for Simulation Training, said, "Nowadays, patients are sicker when they are admitted to the hospital. It is important that we are proactive rather than reactive when it comes to being ready for these patients."
The Simulation Lab allows providers to practice problem solving in a real-time and safe environment. They can hone skills and improve reaction times working as a team with other healthcare providers.
The lab is outfitted with a computer control room and a mock patient room that houses iStan, a wireless simulated patient equipped with fully operational functions including bleeding, tears, and other fluids. iStan also has realistic physiology and responses including EKG rhythms. Healthcare providers are able to run scenarios, making decisions in real time, communicating with and treating iStan as an actual patient. Medications are given through IVs, oxygen is delivered through the nose and mouth, and catheters are inserted, creating a training environment like no other, as iStan speaks and reacts as a human being would to whatever stimulus is presented.
The lab also has a high fidelity computer-controlled adolescent-sized manikin that can be used to simulate unique aspects of caring for a child. In addition, a non-computerized premature newborn manikin and incubator allows skill enhancement for handling higher risk babies.
"This is not the Annie manikin that was used in traditional CPR classes, but rather a high tech human simulator that physiologically changes according to the caregiver's response and is the modern way of teaching in today's fast changing environment," said Sanchez-Torres. "The reality is exposure to high risk, low volume scenarios that cannot be met safely in a yearly skills lab or during an orientation process. Without frequent exposure to these types of scenarios in a timely manner, patient safety is at risk."
Sanchez-Torres added, "Gone are the days of teaching task-oriented nursing in skills labs. Theory and hands-on development must be taught in conjunction with skills for bedside caregivers to become proficient and motivated towards clinical excellence. These high fidelity simulators bring systematic education and theory to life."
Funds for the Simulation Lab and iStan units were raised by donations to KishHealth Foundation. "We are very grateful for donor support of continuing clinical education," Duffy said. For more information about KishHealth System, visit http://www.kishhealth.org.