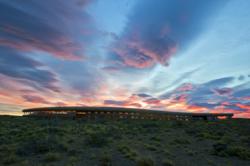 Tierra Patagonia Suggests Favorite Tips for Taking an Early Season Visit to the Region, Offers Guests "Four for Three" Special Deal from Sept. 1 - Oct. 31, 2012
Santiago, Chile (PRWEB) July 17, 2012
Much like Tierra Patagonia Hotel & Spa itself, spring in Chilean Patagonia is one of the southern hemisphere's hidden gems. As the cool, wet winter gives birth to a warm, colorful spring, filled with a diverse array of flora, fauna and geological features – guests at Tierra Patagonia will experience unrivaled sensorial adventure.
From horseback riding to majestic penguin sightings, myriad outdoor expeditions to stunning sunsets and sunrises above snow-capped peaks, spring at Tierra Patagonia is literally blooming with excitement.
As an added incentive, guests who book three nights from Sept. 1 – Oct. 31, 2012 get the fourth night free, with all-inclusive rates starting at $1,950 per person for three nights, based on double-occupancy. Regular rates start from US$2460 per person for four nights in a Patagonia Standard Double Room, based on double occupancy.
And with Tierra Patagonia's all-inclusive program, travelers can experience a worry-free vacation, with the following included as part of the stay: ground transfers from the Punta Arenas, Puerto Natales or Calafate airports; accommodations; all meals; daily excursions; open bar featuring house drinks and wines; and the use of the spa facilities. Special rates are extended to children and teens, making the 40-room resort an excellent option for families.
Below, Tierra's expert outdoor adventure guides give their top 10 reasons to visit Tierra Patagonia in the spring:
1. Full-Length Feature. Longer days—about 16 hours of sunlight—mean more light to explore the azure lakes, meandering trails, roaring rivers and exceptional flora and fauna that, together, make up one of the most stunning backdrops on the planet.
2. In Full Bloom. A wealth of unique plant life exists in the plains of Patagonia. During the spring the delicate flowers, trees and shrubs of the region begin to flourish in a full orchestral delight. Notably, the Chilean firebush blooms a defiant red in stark contrast to the muted landscape. On Tierra Patagonia's scenic tour of the Las Chinas Valley, abundant flora such as oxalis, ladies slipper, alstroemeria, quinchamalium, leucheria and neneo can be found.
3. Spring Solitude. Enjoy all that the Torres del Paine National Park has to offer without the crowds. With the same mild weather and clear skies as the busier summer months, the park's delights are entirely at your fingertips.
4. Breeding Season. Native to the region of South America, guanacos are a llamalike species most numerous in the Patagonian province. By November, baby guanacos—or chulengos—are born; take a half-day hike on Hunters Trail with the hotel's guides and you are likely to spot this special springtime event.
5. Photo Op. Spring in Patagonia is the perfect time capturing photographic memories. The brilliant sunlight still hits the mountains horizontally, providing prime conditions for wildlife and landscape pictures. Guests on Tierra Patagonia's full-day expedition to the Ferrier Viewpoint can get the perfect photo of Grey Glacier, Paine Massif, Paine River and Lago del Toro.
6. Scent-sational. Commonly described as a "natural" bonsai tree, the Ñirre tree is special for its smell. Grab a handful of its leaves and breathe in a delightfully fragrant cinnamon scent.
7. Patagonian Lamb Barbeque. Spring is lamb season in Patagonia, and Tierra Patagonia's master chefs offer one of the culinary highlights of the region: whole lamb roasted over an open fire.
8. Bird Journey. Over 105 species of birds, including 15 birds of prey, call southern Chile their home. Grab your binoculars and head out on a dazzling expedition where you just might spot the Black-chested Buzzard Eagle, Magellanic Owl, Black-neck swan or Striped Woodpecker.
9. March of the Penguins. Found only along the coast of Chile and Argentina, Magellanic penguins are a special Patagonian sight. Each year from November through January 150,000 penguins, named after the Magallenes region in which they breed, arrive at the Seno Otway and on Isla Magdalene on the Chilean coast to meet and mate.
10. Horse Trails. Horseback riding in Patagonia is a must-do, and the hotel offers rides for all levels. Local gauchos (cowboys) take guests on half-day or full-day journeys, allowing for a real Patagonian experience by horse.
Buy Three Get Four with Tierra Patagonia: From September 1 – October 31, 2012, get the fourth night free, with all-inclusive rates starting at $1,950 per person for three nights, based on double-occupancy. Regular rates start from US$2460 per person for four nights in a Patagonia Standard Double Room, based on double occupancy. For more information, visit http://www.tierrapatagonia.com. For reservations, email info(at)tierrapatagonia(dot)com or call toll-free 1-800-829-5325.
About Tierra Hotels
A unique portfolio of luxury hotels and resorts set in exceptional locations, Tierra Hotels were created by the Purcell family, who has a long-established reputation for offering fine hospitality at Ski Portillo, Chile. Tierra Hotels are distinguished by a guest experience that delivers legendary South American hospitality, tailored adventure and cultural experiences, innovative design and architecture inspired by the natural surroundings and environment.
###
Media Contacts:
Maureen Poschman/ Sarah-Jane Johnson
Promo Communications
Maureen(at)promocommunications(dot)com
sarahjane(at)promocommunications(dot)com
+1 970 925 8480