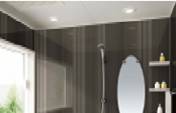 We are delighted to be the first in the industry with a biobased commercialized product offering. This achievement contributes to Panasonic's sustainability goals as outlined in 'Green Plan 2018.'
Wilmington, DE (PRWEB) July 16, 2012
DuPont Tate & Lyle Bio Products today announced that Panasonic Corporation Eco Solutions Company has adopted biobased resins made with Susterra® Propanediol for their new line of kitchen and bathroom systems. The new integrated kitchen system, "Living Station," and bathroom system, "Cococino," both use biobased resins made with Susterra® and are now available commercially through Panasonic Corporation Eco Solutions Company.
The new kitchen and bathroom systems were developed using Panasonic's unique technology of compounding plant-derived and petroleum-derived resins. The resins based on plant-derived, Susterra® are used to manufacture the kitchen countertops in the "Living Station" product line and the bathroom ceilings in the "Cococino" product line.
For the first time in the Asia Pacific region, biobased resins were adopted as the building material for wet areas such as kitchens and bathrooms. The biobased materials also are used for the wash basins and toilets in the Panasonic product line.
"The quality requirement for wet area system materials is very high," commented Kazumasa Rokushima, director of the General Technology & Products Development Center, Housing Systems Business Group at the Panasonic Eco Solutions Company. "We are delighted to be the first in the industry with a biobased commercialized product offering. This achievement contributes to Panasonic's sustainability goals as outlined in 'Green Plan 2018.' The year 2018 is the 100th anniversary of the Panasonic Company."
Susterra® propanediol is certified 100 percent biobased by the U.S. Department of Agriculture, making it attractive for companies seeking to add renewable content to their products. A peer-reviewed life cycle assessment (LCA) demonstrates that the production of biobased propanediol offers significant environmental benefits including up to 40 percent less greenhouse gas emissions and 40 percent less non-renewable energy used in its production vs. petroleum-based glycols.
Panasonic Corporation Eco Solutions Company, formed on January 1, 2012, is part of the Panasonic Group with offices in Tokyo and Osaka, Japan. The company is committed to promoting customer solutions that make the most use of a broad range of the Panasonic Group's product lines from energy-related products such as solar power generation systems/storage batteries, and air conditioning/ventilation equipment to food-related systems including cold-chain equipment. The goal of the Panasonic Group is to become the No.1 Green Innovation Company in the Electronics Industry in 2018, the 100th anniversary of its founding. As a member of the Group, the Eco Solutions Company will continue practicing its management principle by making the 'environment' central to all of its business activities and providing comfortable yet eco-friendly products and services globally.
DuPont Tate & Lyle Bio Products is a joint venture between DuPont, a global science company, and Tate & Lyle, a world-leading renewable food and industrial ingredients company. DuPont Tate & Lyle Bio Products provides natural and renewably sourced ingredients that do not compromise product performance. For more information on the company's products, visit http://www.duponttateandlyle.com.
# # #
7/16/12
Susterra® and the circle logo are registered trademarks of DuPont Tate & Lyle Bio Products Company LLC.