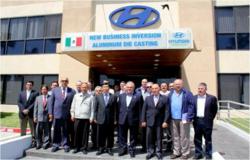 Tijuana, Mexico (PRWEB) July 16, 2012
The new plant´s construction will start in July 2012 and it is expected to reach its full capacity in January 2014. It will produce 900,000 units of three automotive parts such as Engine Blocks, Engine Cylinder Heads, and Transmission Cases.
Kenny Lee mentioned Tijuana was competing for this project with Monterrey, Mexico and Montgomery, Alabama. However, Hyundai's positive experience in the City for over 20 years, competitive costs, and the support received from local government's were important factors that played a significant role in the choice of Tijuana over the others.
David Mayagoitia, President of Tijuana EDC, expressed that this new plant will increase the automotive industry base of 51 plants operating in the City that employ over 15,000 people. The new project will be a milestone in Hyundai's history due to the fact that it represents almost half of the company's actual investment in Tijuana, "we are deeply honored to be part of this State and this City," said Kenny Lee.
David Mayagoitia stressed that according to Mexican Association of Automotive Industry (AMIA) Mexico exported over 2 million units in 2011, 68 percent of this units were sent to the U.S.. Mayagoitia also said that in regards to the city's industry, "We are giving a higher priority to high tech auto parts; this is the first step towards assembly a complete car in Tijuana."
As the automobile export market continues moving forward, more corporations will find competitive advantages in Tijuana's operating platform which combines high-skilled workforce, immediate market access, 50 years of manufacturing experience and a wealth of resources.
About Tijuana EDC: The Tijuana EDC is a nonprofit corporation dedicated to helping companies establish successful manufacturing operations in Mexico and to take advantage of the business opportunities of vertical integration, introducing qualified Mexican suppliers and facilitating access to new markets. For more information on how to take advantage of these opportunities contact the Tijuana EDC at contact(at)tijuanaedc(dot)org or visit the EDC website at http://www.tijuanaedc.org