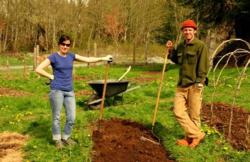 "This life-changing course has top instructors in the region and an amazing group of students. I came away with a profound toolkit on how to truly
live sustainably." Ben Kaufman, 2011 participant
Monroe, WA (PRWEB) July 14, 2012
Learn how to work with nature to create a greener world! The Permaculture Design Course teaches how to apply nature-based permaculture design for both personal and professional use, to promote healthy communities and a meaningful, fulfilling lifestyle. Upon completion of the course graduates receive a Permaculture Design Certificate, an internationally-recognized credential for sustainability consulting. The course is a mixture of both classroom and outdoor hands-on projects.
Instructors: Jenny Pell, renowned permaculture designer, is noted for her work on the Seattle Beacon Hill Food Forest. Adam Rawson is an accomplished permaculture consultant and landscape designer. Steve Nicolini is an experienced wilderness skills instructor, wildlife tracker and permaculturist.
Location: The beautiful 15 acre campus of Alderleaf Wilderness College, just a little over an hour drive outside Seattle, WA: 18715 299th Ave SE, Monroe, WA 98272.
Accommodations: Free tent or car camping available on site with access to running water, fire pit and bathroom. Local hotel information is available on our website.
Cost & Discounts: $1500 per person. Pre-registration required online or by phone. Receive a 10% discount when you sign up for the Self-Sufficiency Series or if you register with a friend or family member. Space is limited.
Learn more and register at the Alderleaf website.
Alderleaf Wilderness College is a nature education center offering innovative permaculture, wildlife tracking, nature education, sustainable living, and wilderness survival courses in the Pacific Northwest. Alderleaf offers a variety of classes, presentations, and programs of varying lengths. Adults and families can participate in a day-long, weekend, week-long, monthly, or extended program. Core fields of study include:
Wilderness Survival & Bushcraft
Permaculture & Sustainable Living
Wildlife Tracking & Awareness
Wild Edible & Medicinal Plants
Naturalist Skills & Ecology
Nature-based Education & Leadership