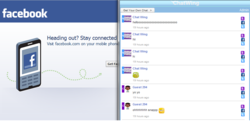 Miami, FL (PRWEB) July 13, 2012
The Chatwing team is now moving up in the Facebook community with the help of the Lujure app. Lujure allows the Chatwing shoutbox to be embedded in Facebook pages, providing a new stream of real-time communication for a lot of Facebook users. This is crucial for Internet marketers who are making a living in Facebook. The Chatwing chat tool has been known in other online communities because of its versatility and high rate of global connection. Additionally, Chatwing is also easier to use compared to other apps.
Chatwing has been used by hundreds and thousands of bloggers worldwide, especially those from the blogging communities of Wordpress and Blogspot. The Chatwing chat box is known for its simplicity and easy installation mechanism. Now, with the help of Lujure, the Chatwing chat app can now expand in the Facebook community. Lujure does this by allowing the user to drag and drop the Chatwing widget into his desired dashboard. After a string of processes, the Chatwing tool is now ready to be used in any Facebook page. This is useful for Internet marketers because Chatwing can serve as a real-time inquiry tool, making the online business more visible.
The Chatwing shout box can accommodate up to 600 active, information-hungry visitors in real time. This is the reason why the Chatwing tool is an effective visibility booster—it can make any blog active by turning it into a chat lounge filled with interactive discussions. In Facebook alone, lots of topics can be discussed, ranging from games, famous pages, and even current events.
Chatwing is always ready to extend help to bloggers, web surfers, and everyone. Its developers are working hard to ensure that the web chat tool is running smoothly. Occasional maintenance checks will be conducted so that future errors will be prevented. In a general sense, the Chatwing team is fully dedicated to the pursuit of better website chat experience.
About Chatwing.com
Chatwing.com has developed live chat software for websites and blogs. It caters to different online communities due to its high rate of connectivity. Everyone can create a customizable live chat box feature in 1 minute or less. Users have the ability to customize the size, color, and fonts of the chat product. The ability to chat via social media accounts such as Facebook and Twitter enable Chatwing to offer a personal and unique real-time experience to all sites. Chatwing is 100% free and very easy to use.