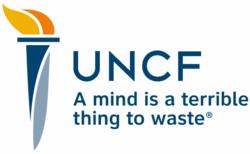 Merck's investment in these promising students is a significant commitment to building a pipeline of African American students in biosciences, said Michael L. Lomax, Ph.D., UNCF President and CEO.
Philadelphia, PA (PRWEB) July 16, 2012
The UNCF/Merck Science Initiative, a partnership of UNCF (United Negro College Fund), the nation's largest and most effective minority education organization, and Merck, a global healthcare leader working to help the world be well, today announced that it would award scholarships and fellowships to 37 African American students of biological science and engineering. In addition to building a pipeline of African American college students in science, technology, engineering and math (STEM) disciplines, the UNCF/Merck Science Initiative (UMSI) works to leverage the UNCF-Merck partnership and the talent of UNCF Merck Fellows to help support the pipeline of minority students by engaging and attracting them to STEM subjects as early as elementary school.
Now in its seventeenth year, UMSI is a twenty-year partnership that has supported 627 scholarships and fellowships to promising undergraduate, graduate and postdoctoral science students pursuing careers in biomedical research. UNCF Merck Fellows have attended 196 schools, some our nation's best private and public colleges and universities including ivy league schools like Princeton University, Yale University and Duke University; flagship universities like University of Georgia and University of California, Berkeley and UNCF Member Institutions like Xavier University, Claflin University and Morehouse College. The UNCF/Merck scholarships and fellowships provide the UMSI scientists and future scientists with financial support, hands-on training, close mentoring and networking relationships, and institutional support. Recipients are chosen through a competitive application process that selects candidates based on their academic achievements and potential in the fields of biomedical research and engineering.
"Merck's investment in these promising students and scholars is a significant commitment to building a pipeline of African American students in biosciences and an investment in longer and better lives for millions of people not only in America but around the world," said Michael L. Lomax, Ph.D., UNCF president and CEO. "Developing the next generation of researchers, professors, and science and math teachers will also enable our nation to compete in the global economy. I challenge this generation of African American scientists to mentor, advocate and help prepare the next generation of African American scientists, to ensure that younger students get the pre-college education they need to study science in college. It is critical to start introducing our students to science early and it is crucial for these students to have good science and math teachers in their classrooms."
Additionally this year during UNCF/Merck Fellows Day, UMSI will celebrate an award to the undergraduate STEM program of UNCF member institution Xavier University with a $500,000 grant in conjunction with the UNCF Institute for Capacity Building, for a STEM Capacity Building Program. Over the next four years, Xavier University, the only recipient of this grant, will use the STEM Capacity Building Program to grow the number of students graduating with STEM degrees and pursuing research careers in the biological and chemical sciences.
UMSI aims to increase the number of African American undergraduates studying in STEM disciplines. American undergraduate students tend to select natural science and engineering (NS&E) disciplines as their primary field of study at considerably lower rates than their counterparts in other countries, according to the National Science Board's Science and Engineering Indicators 2012. According to the most recent data, only 16 percent of U.S. undergraduates graduate with an NS&E degree, compared to 24 percent of undergraduates in the European Union, 44 percent in China, and 37 percent in South Korea.
The same trend is reflected among students studying STEM as graduate students and postdoctoral scientists. 33 percent of all U.S. STEM doctoral students in U.S. universities, and 43 percent of the U.S.'s postdoctoral researchers in science, engineering, and health are foreign students.
Merck and UNCF began UMSI in 1995 with a ten-year, $20 million grant from the Merck Company Foundation and Merck Research Laboratories. The project was extended in 2006 with an additional $13 million grant and again in 2011 with an additional investment of $13.3 million over five years.
"In the healthcare industry, innovation leads to the creation of new medicines and vaccines that save and improve people's lives." said Kenneth C. Frazier, chairman and chief executive officer, Merck. "Merck is proud of our longstanding partnership with the UNCF, which helps ensure that highly-talented African-American students can excel both in science and in addressing significant human health issues."
The 2012 UNCF/Merck Fellows receive awards ranging from $25,000 for undergraduate scholarship recipients to $92,000 for recipients of postdoctoral fellowships. In addition, the program's alumni have organized the Association of Underrepresented Minority Fellows to facilitate continued professional growth. This network allows UNCF/Merck Fellows to collaborate in academia, government and the private sector to leverage their wealth of scientific, technical and biomedical knowledge and experience.
"I am excited to be a part of a program that has contributed so much to increasing the number of African-American scientists and engineers," said Tshaka Cunningham, Ph.D., a biologist who received a Merck Fellowship to pursue new research directions in HIV biology at Rockefeller University. "In addition to supporting my research, UMSI supported a research project for a Morehouse College undergraduate who I mentored and who now attends medical school at UCLA. The scientists and industry professionals I have met through UMSI have become my own friends and mentors and have helped me grow in my career."
Support from the UNCF/Merck Science Initiative scholarships targets students entering their final undergraduate year, graduate students in their final two-to-three years of dissertation research, and postdoctoral Fellows continuing their research training. African American students in the life, physical and engineering sciences at American four-year colleges and universities are eligible to apply for the scholarship. In addition to scholarships and fellowships, the UNCF/Merck awards may include funding for the science departments at the colleges and universities they attend. Undergraduate Fellows receive summer research internships at Merck Research Laboratories, where each Fellow is paired with a Merck mentor who provides valuable research assistance, guidance and support. To learn more about the UNCF/Merck Science Initiative, visit http://umsi.uncf.org/.
You can also join our Twitter conversation at #UNCF&MRK
About UNCF
UNCF (United Negro College Fund) is the nation's largest and most effective minority education organization. To serve youth, the community and the nation, UNCF supports students' education and development through scholarships and other programs, strengthens its 38 member colleges and universities, and advocates for the importance of minority education and college readiness. Today, UNCF supports more than 60,000 students at over 900 colleges and universities across the country. UNCF administers more than 400 programs, including scholarship, internship and fellowship, mentoring, summer enrichment, and curriculum and faculty development programs. UNCF institutions and other historically black colleges and universities are highly effective, awarding more than 20 percent of African American baccalaureate degrees. The UNCF logo features the UNCF torch of leadership in education and its widely recognized motto, "A mind is a terrible thing to waste."® Learn more at http://www.UNCF.org.
About Merck
Today's Merck is a global healthcare leader working to help the world be well. Merck is known as MSD outside the United States and Canada. Through our prescription medicines, vaccines, biologic therapies, and consumer care and animal health products, we work with customers and operate in more than 140 countries to deliver innovative health solutions. We also demonstrate our commitment to increasing access to healthcare through far-reaching policies, programs and partnerships. Merck. Be well. For more information, visit http://www.merck.com.
About The Merck Company Foundation
The Merck Company Foundation is a U.S.-based, private charitable foundation. Established in 1957 by Merck, a global healthcare leader, the Foundation is funded entirely by the company and is Merck's chief source of funding support to qualified non-profit, charitable organizations. Since its inception, The Merck Company Foundation has contributed more than $600 million to support important initiatives that address societal needs and are consistent with Merck's overall mission to help the world be well. For more information, visit http://www.merckcompanyfoundation.org.
2012 UNCF/MERCK SCIENCE INITIATIVE FELLOWS
Undergraduate Science Research Scholarship Awards (up to $25,000 each)
•Onyemaechi C. Anoruo, Temple University (Philadelphia, PA)
•Dara Bobb-Semple, State University of New York at Stony Brook (Stony Brook, NY)
•Carmen L. Del Valle, Columbia University (New York, NY)
•Piaget J. Francois, University of Pittsburgh at Pittsburgh (Pittsburgh, PA)
•Kia R. Johnson, University of St. Thomas, Saint Paul (Saint Paul, MN)
•Russell J. Ledet, Southern University and A & M College (Baton Rouge, LA)
•David Marcelin, Fordham University (Bronx, NY)
•Erika M. Moore, John Hopkins University (Baltimore, MD)
•Evelyn Okeke, The College of Staten Island of The City University of New York (Staten Island,NY)
•Victoria Okuneye, Massachusetts Institute of Technology (Cambridge, MA)
•Faith Simunyu, Denison University (Granville, OH
•Marisha M. Perkins, University of the Virgin Islands (St. Thomas, U.S. Virgin Islands)
•Anthony M. Todd, University of Alabama, Birmingham (Birmingham, AL)
•Ashton K. Wheeler, University of Alabama, Birmingham (Birmingham, AL)
•Jalissa L. Wynder, Southern University, Baton Rouge (Baton Rouge, LA)
Graduate Science Research Dissertation Fellowships (up to $53,500 each)
•Sarah Ann R. Anderson, Mount Sinai School of Medicine (New York, NY)
Undergraduate Institution: Xavier University of Louisiana
•Alicia T. Barr, Medical College of Wisconsin (Wauwatosa, WI)
Undergraduate Institution: Case Western Reserve University
•Jamaal L. Benjamin, University of Texas Southwestern Medical Center (Dallas, TX)
Undergraduate Institution: Morehouse College
•April M. Clayton, John Hopkins University (Baltimore, MD)
Undergraduate Institution: Erskine College
•Janice M. Dias, University of Miami (Coral Gables, FL)
Undergraduate Institution: University of Miami
•Christina N. Garlington, University Of Colorado Health Sciences Center (Denver, CO)
Undergraduate Institution: University of Miami
•Uzoma K. Iheagwara, University of Pittsburgh (Pittsburgh, PA)
Undergraduate Institution: University of Maryland, Baltimore County
•Kateena L. Johnson, Morehouse School of Medicine (Atlanta, GA)
Undergraduate Institution: Agnes Scott College
•Paul Kelley, California Institute of Technology (Pasadena, CA)
Undergraduate Institution: The Catholic University of America
•Folami Lamoke, Medical College of Georgia (Augusta, GA)
Undergraduate Institution: Brown University
•Elizabeth M. Ransey, Carnegie Mellon University (Pittsburgh, PA)
Undergraduate Institution: Rochester Institute of Technology
•Dionna W. Williams, Yeshiva University (New York, NY)
Undergraduate Institution: Hofstra University
Postdoctoral Science research Fellows (up to $92, 000 each)
•Nnenna A Finn, Ph.D., Emory University (Atlanta, GA)
Undergraduate Institution: University of Florida
•Keneshia Haenssen, Ph.D., University of Medicine and Dentistry of New Jersey (Newark, NJ)
Undergraduate Institution: Randolph-Macon Woman's College
•Dahlia Haynes, Ph.D., Carnegie Mellon University (Pittsburgh, PA)
Undergraduate Institution: Claflin University
•Rashade A.H. Haynes II, Ph.D., University of Medicine and Dentistry of New Jersey (Newark, NJ)Undergraduate Institution: Rutgers University-New Brunswick
•Curtis J. Henry, Ph.D., University of Colorado Denver (Aurora, CO )
Undergraduate Institution: Florida A& M University
•Jessica Lopes Da Rosa-Spiegler, Ph.D., University of Georgia (Athens, GA)
Undergraduate Institution: Rutgers University
•Arion Kennedy, Ph.D., Vanderbilt University (Nashville, TN)
Undergraduate Institution: Florida A& M University
•Stephanie M. Malone, Ph.D., Carnegie Mellon University (Pittsburgh, PA)
Undergraduate Institution: Princeton University
•Troy A. Mceachron, Ph.D., St. Jude's Children Research Hospital (Memphis, TN)
Undergraduate Institution: Arizona State University
•Hosea M. Nelson, Ph.D., University of California, Berkeley (Berkeley, CA)
Undergraduate Institution: University of California at Berkeley
###