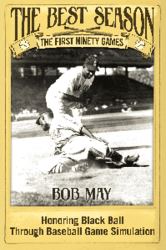 (The author) brings the games to life in stunning detail, including weather conditions, player talents and intricately detailed stats.
ROCKWALL, Texas (PRWEB) July 24, 2012
Honoring 21 great players of the Negro Leagues is the goal of this new book that pits black ball players against their counterparts from the Major Leagues using carefully researched statistics. This book and a second one the author has started features 15 nine-game series vs. the 16 original post-1900 teams (the Braves and Pirates combine), as well as two 15-game All-Star series and a post-season six-team playoff from the 15 nine-game series.
In addition to simulated games, "The Best Season: The First Ninety Games" contains accounts of the author's meetings with baseball greats like Monte Irvin, who played for the Newark Eagles of the Negro League and the New York Giants of the National League; Alvin Spearman, a Chicago American Giants star pitcher; and Bill Blair, who pitched for the Indianapolis Clowns. Baseball fans will find biographical details on Oscar Charleston, Josh Gibson, Leroy "Satchel" Paige, Norman "Turkey" Stearnes, John "Pop" Lloyd, George "Mule" Suttles, Walter "Buck" Leonard, Cristobal Torriente, James "Cool Papa" Bell, Willie Wells, Martin Dihigo, Leon Day, William Foster, Wilber "Bullet Joe" Rogan, Hilton Smith, Raleigh "Biz" Mackey, Judy Johnson, Ray Dandridge, Monte Irvin, Newt Allen and Frankie Warfield, as well as free agent pitchers Don Newcombe, Luis Tiant, J.R. Richard and Donnie Moore.
May brings the games to life in stunning detail, including weather conditions, player talents and intricately detailed stats, making it easy to picture what might have happened if these skilled players had actually battled major league stars. "Bob May's simulated games give voice and numbers to what could have been," writes Leslie Heaphy, detail editor of "Black Ball Journal," in the book's forward. "Readers will get a glimpse into what the game of baseball might have looked like if everyone had been able to play on the same diamonds."
Author Bob May, a lifelong baseball fan, bought a Pursue the Pennant baseball board game in 1987. Within two years, he became an invested partner in the company, thanks to the game's realism, and then company president. He and his management team created a player card set in 1993 with 416 players from the 1880s to 1980s, including 21 players from the segregated Negro Leagues, known as the Black Ball Era. May is working on a second book, "The Best Season: The Challenging Finish," which will complete the 165 games and playoffs.
----------
For additional information, please visit http://www.honoringblackballbookone.net.
The Best Season: The First Ninety Games
Bob May
Dog Ear Publishing
(Paperback) ISBN: 978-1-4575-1221-6 272 pages $26.95 US
(Hard cover) ISBN: 978-1-4575-1303-9 272 pages $44.95 US
Available at Ingram, Amazon.com, Barnes & Noble and fine bookstores everywhere.
About Dog Ear Publishing, LLC
Dog Ear Publishing offers completely customized self-publishing services for independent authors. We provide cost-effective, fast, and highly profitable services to publish and distribute independently published books. Our book publishing and distribution services reach worldwide. Dog Ear authors retain all rights and complete creative control throughout the entire self-publishing process. Self-publishing services are available globally at http://www.dogearpublishing.net and from our offices in Indianapolis.
Dog Ear Publishing – self-publishing that actually makes sense.