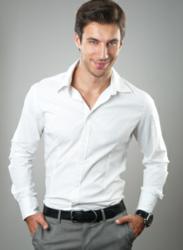 Custom Dress Shirts Tailor Made for You
San Antonio, TX (PRWEB) July 18, 2012
Hong Kong Direct, specialist in making custom dress shirts now has a website designed to improve interactivity with clients and to simplify online shopping from their store.
The company website, developed with the client in mind, features ease-of-use tools including a shop gallery with product pictures, gift cards, shopping cart, contact details and calendar just to name a few.
Customers interested in placing orders for shirts can now do so via the website by submitting email requests with measurement details on the contact page and making payments via a secure checkout system. The site also features HKD sizing video tutorials as well instructions on taking measurements before placing orders for shirts.
Purchasing customized shirts via the MyHKD website is simpler and faster as customers follow simple steps in customizing their shirts, which involve selection of the fabric, customizing design, size and other features like monograms and initials and submitting any special requests. The site also features an order status tracking tool to help clients know the state of their purchases.
HKD's tailor is located in Hong Kong and has over 35 years of experience in making customized tailored clothes for customers worldwide.
For more information, contact HKD style consultants on telephone 1-877-217-8688 or email support(at)MyHKD(dot)com.