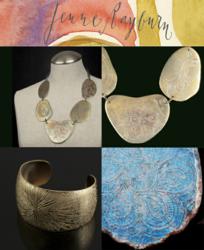 Etched jewelry inspired by ancient relics and primal elements. Weathered textures combined with natural materials for an unpretentious grace.
Boston, MA (PRWEB) July 15, 2012
Etching sterling silver, brass and copper metal jewelry results in unique patterns instilled with beautiful texture and color for the woman looking to accent her personal style. Rayburn etches original designs onto metal sheets from which she then cuts out patterned areas to suit her design concept. The etched designs also may be combine with other metal decoration techniques such as stamping and texturing with hammers, engraving or imprinting patterns using a rolling mill. Rayburn's attention to detail is evident in her metal designs, unique stone selections and settings. "My handmade jewelry is about being beautiful, stylish and confident, not about being trendy." said Rayburn. "I am inspired by ancient relics that are worn and improved by the passage of time."
For Rayburn, the allure of etched metal is in the balance and contrast of rough and smooth. Detailed etched textures infuse the cuff bracelets, pendant necklaces and earrings with mysterious imagery. "Etching enables me to layer textures and symbolism using photographic source material, text, and hand drawn illustrations," said Rayburn. "By etching I can create unique designs that would be impossible to create otherwise." Etching metal is a multi-step process that takes care, preparation and caution. Jenne Rayburn's collection of distinctive etched metal jewelry is handcrafted by transferring original designs to sheets of silver, brass or copper, then submerging the sheets in a chemical bath. An electro-chemical process removes the areas of exposed metal, leaving a raised surface relief with a beautiful design. The resulting design can be oxidized, filled with enamel or inlaid with contrasting metal, stone or wood. For some designs Rayburn uses photochemical etching as a way to accurately mill detailed openwork forms.
The designs draw inspiration from the expressive arts of ancient civilizations, which had a beautiful way of creating symbolic meaning; yet today seem like secrets lost in time. The etched metal surfaces have an enigmatic feel of mystery and discovery because the symbolism is not immediately evident, and the imagery speaks to our emotions. "My process and designs value mystery and surprise, and the revelatory way that you understand something with the passage of time," explains Rayburn. "My pieces reinterpret and represent the symbolism that exists in our cultural memory, thereby connecting us to our collective heritage."
Metal etching is one of the oldest forms of etching, dating back to the medieval ages when knights had their armor and shields detailed and decorated. During the Renaissance, acid etching of armor for elaborate decoration was common among nobles in Europe. Metal is ideal for etching techniques, notable for its color and richness of surface. The way light plays with metal is distinctive from other popular etching materials like glass, stone, or clay. Metal will bend, fragment, and reflect light, creating an almost surreal visual quality permeated with liveliness and sparkle. Notes Rayburn, one of the great satisfactions of etching is that whatever you can draw, you can etch.
Visit Jenne Rayburn's collections http://www.jennerayburn.com
Visit Jenne Rayburn on Facebook http://www.facebook.com/Jenne.Rayburn
About:
Jenne Rayburn is a Boston-based jewelry/textile artist who also studied interior design and architecture, and her work evolves from the overlap between architecture, design, technology and art. Jenne is known for her designs made from reusing vintage textiles, findings and components, found while foraging in antique shops and vintage markets. A graduate of the University of Washington where she studied metalsmithing and fiber arts, and of the University of Massachusetts, Amherst with a MS in Design, Jenne has been designing jewelry and apparel for over 20 years. Perpetual curiosity and a passion for experimentation resulted in her first jewelry collection made from etched copper and brilliantly colored enamel. Since then Jenne has created six unique collections that combine careful workmanship with unique materials and designs. It is her hope that the wearers of her pieces will find joy in a delightful artistic statement, and also something that enhances their individuality and confidence. Her work is carried in local galleries and online. Please visit http://www.jennerayburn.com for Jenne Rayburn's online flagship store. For wholesale information, please visit jennerayburn.com/wholesale.com