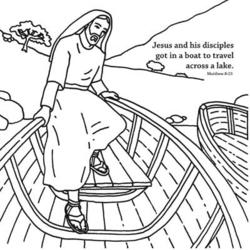 I love them and will be using them for my VBS class. I know the children will enjoy them as much as I do. - Brenda
Jamestown NC (PRWEB) July 16, 2012
Memory Cross has created a craft card that teaches children the story of Jesus calming the storm from Matthew 8:23-27. This origami card contains four panels that makes a never ending loop which captures the attention of children. Children also learn as they color the card. Designed to be used with Vacation Bible School, Children's Church, Sunday School, and on mission trips, this craft activity is a fun, low cost way for children to learn of this miraculous event.
Jesus Calms the Storm craft card was chosen because of its powerful story. Jesus and his disciples were traveling by boat when a storm came upon them. Jesus was exhausted and asleep in the boat. As the storm became worse the disciples woke him in fear for their lives. Jesus rebuked them for their lack of faith and calmed the wind and waves just by speaking. This act overwhelmed the disciples as many of them were fishermen and had personally experienced a storm at sea.
The story has implications for children and adults today. Jesus who calmed the storm is able to calm our hearts and minds even in the midst of trouble that we are facing.
The card helps children understand the significance of the story as well as remember it.
Jesus Calms the Storm is available in packs for churches as well as part of a craft activity pack for families. The craft activity pack contains cards that tell various Bible stories including: John the Baptist, Jesus Calms the Storm, Jesus Feeds the Five Thousand, Let us run the race, Christmas story, the Easter story, miraculous catch of fish, and two blank cards which your kids can use to create their own story.
Helping children understand the Bible and how it relates to them is one of the most important things a church can do. Chuck Swindoll said this about learning and memorizing the Bible: No other single exercise pays greater spiritual dividends! Your prayer life will be strengthened. Your witnessing will be sharper and much more effective. Your attitudes and outlook will begin to change. Your mind will become alert and observant. Your confidence and assurance will be enhanced. Your faith will be solidified." - Growing Strong in the Seasons of Life
About Memory Cross: Memory Cross produces origami style cards that share the Gospel and help children learn the Bible. They do so in a fun and engaging way. The unique design of the card captures attention, which is what makes it such a good teaching and outreach tool.