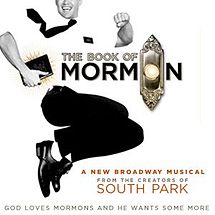 Los Angeles, CA (PRWEB) July 13, 2012
Discount Book of Mormon Tickets are over stock at Tickethunteronline.com. The southern California ticket power house announced it has over bought tickets to the highly successful Book of Mormon musical. Fans can take advantage of a 20% discount on all Pantages theater tickets at Tickethunteronline.com by typing in promo code "wicked" at check out.
Performances of "Mormon" are scheduled to run from Sept. 5 to Nov. 25. The engagement is part of a national tour of the hit musical, which opened on Broadway at the Eugene O'Neill Theatre in 2011.
Ticket Hunter Online spokesperson states the reason for the discount is due to slower web traffic than expected for the Broadway hit.
"Initially we foretasted a 30% increase in demand for the Book of Mormon tickets. After the first few weeks, we experienced a significant drop in searches. We added a 20% discount to all Broadway tickets to help clear inventory." said Ticket Hunter Online CEO Michael Quinones
Tickets for "Mormon" will start at $30 each. A spokesman for the Pantages was not able to provide a full range of ticket prices at this time. In the past, the Pantages has used a dynamic ticket pricing policy, with popular seats and certain performances commanding premium prices.
Book of Mormon tickets have been in tremendous demand selling at sometimes three times face value in the resell market place. Like the hit musical, Wicked, Book of Mormon is also a monstrous financial success, the show grosses on average $1.5 million per week.
The Tony Award winning Book of Mormon has had a consistent cast on Broadway since it's debut in March 2011.The cast change has sparked concern by a major ticket seller over whether or not Book of Mormon tickets demand will drop off. Mega online tickets retailers, Ticket Hunter Online, voiced concern on the future of sales.
The CEO of the Los Angeles based Ticket Hunter stated they would be offering a discount for the remaining year.
"History shows us that when cast members change in a musical there is always a slight drop in demand immediately. Book of Mormon tickets should be no different. Our promotion will help increase traffic until the changes settle." Stated CEO Michael Quinones .
Fans can take advantage of a 20% discount at Tickethunteronline.com by typing in promo code "wicked" at check out.