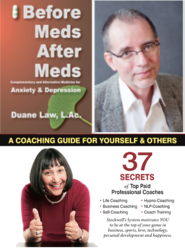 Learn these easy, doable tools for relieving depression and anxiety with food and nutrition and the power of coaching yourself to conduct business and personal life successfully.
Los Angeles, CA (PRWEB) July 16, 2012
Psychologist, Hypnotherapist and Life Coach Dr. Carol Francis brings to you 2 amazing professionals who will enable you to WIN at Life's business and personal dreams through personal coaching and also to overcome depression and anxiety with the power of FOODS and nutrition.
Dr. Shelly Stockwell is about to release her next bestseller: "WIN: Coaching Guide For Yourself and Others." This is a must read. Dr. Shelly Stockwell is internationally known for her books and amazing Hypnotherapeutic Tools and founder of International Hypnosis Federation. Discover more at http://www.hypnosisfederation.com
Duane Law, Author of "Before Meds/After Meds: Complementary & Alternative Medicine for Anxiety & Depression" will transform your power to use food and nutrition as a freedom from depression and anxiety during this radio show interview with Dr. Carol Francis.
During the second hour of Dr. Carol Francis Show Duane Law explains "Powerful, cheap, safe and effective mood-lifting nutrients are as close as the shelves of the nearest health food store. Pharmaceuticals like Valium and Ativan mimic the action of naturally occurring protein neurotransmitters. We can take drugs to boost those anxiety calming neurotransmitters or we can take their amino acid precursors and vitamin cofactors to do the same thing naturally." Learn more at http://www.naturalstresscare.org
Dr. Carol Francis is a published author of over 8 books and practices as Clinical Psychologist, Marriage, Family & Child Therapist, Certified Medical Hypnotherapy for 32 years and a Radio and TV Talk Show Host for over 5 years. Dr. Carol Francis, Dr. Shelley Stockwell, and Dr. Duane Law are located in regions serving Los Angeles South Bay Area, Beverly Hills, Redondo Beach, Manhattan Beach, Hermosa Beach, Torrance, Rancho Palos Verdes, Rolling Hills, San Pedro, Long Beach, El Segundo and surrounding communities.