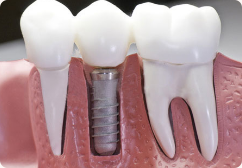 "Despite the fact that they are artificial, dental implants can be covered with food particles and can even discolor overtime, in exactly the same as real teeth do". - Dr. Kanani
Woodland Hills, CA (PRWEB) July 17, 2012
World Renowned Los Angeles dental implant specialist Dr. Kaveh Kanani explains the best care for dental implants.
A dental implant is an artificial device embedded in the jaw bone as an alternative for the roots of an extracted tooth and is meant to hold an artificial crown or bridge. In contrast to dentures, dental implants appear and feel like real teeth, and with correct dental care, they can last a lifetime. Dr. Kaveh Kanani, a world renowned specialist in cosmetic dentistry, is currently offering simple tips to care for dental implants.
"Despite the fact that they are artificial, dental implants can be covered with food particles and can even discolor overtime, in exactly the same as real teeth do,"Los Angeles dentist Dr. Kanani said. "But they are not that hard to manage and maintain as caring for them is also like caring for one's natural smile."
1) Brush and use dental floss twice a day. It is extremely important to pay special attention to back teeth, the spaces in-between teeth, the gums and the devices that attach to the dental implants (abutments).
2) Using a germicidal mouth wash minimizes the build-up of bad bacteria in the mouth, and it is advisable particularly after drinking coffee or tea-substances which are known to cause tooth stains.
3) A regular visit to the cosmetic dentist is very important. Every six months is the advised practice to ensure thorough cleaning, as well as checking the health of the gums, the jaw and the dental implants.
Dr. Kanani can provide more detailed and customized advice on caring for one's dental implants and natural teeth. He and his dental staff are highly experienced in patient care and give high regard for their patient's comfort.
"Our courteous and trusted staff are known for providing exceptional dental care with the highest level of comfort," Dr. Kanani said.
For more information or to get expert advice contact Dr. Kevah Kanani at 818-999-4445 , view him on the Web at http://www.woodlandhillsdentalspa.com or visit his office at 22030 Clarendon St # 102 Woodland Hills, CA 91367.
About World Renowned Cosmetic Dentist Dr. Kaveh Kanani
Dr. Kaveh Kanani graduated from California State University, Northridge with bachelor's degree in Biology. He received his Doctorate in Dental Surgery from New York University and completed his residency in Hospital Dentistry in Woodhall Hospital in Brooklyn New York. Dr. Kanani received his certification from the American Academy of Implant Dentistry and completed series of Maxi courses in School of Dentistry, Medical College of Georgia in 2003, IMTEC 2002, Misch Courses 2004, school of CA Dentistry and ICOI. Dr. Kanani stays current with the latest dental technology by attending seminars all over United States. Dr. Kanani has been an associate in Dental Health Institute of West Los Angeles, Southern California Family Dentistry, and South Bay Dental in Gardena for over 4 years prior to opening his own practice in 2001. He is an Associate Fellow for International Congress of Oral Implantologists and AAID. He is also a member of IADA and Woodland Hills Chamber of Commerce.
Contact Dr. Kanani at 818-999-4445 and mention Smile101 and take advantage of their Specials such as: Dental Implant specials ,$26.99 X-ray and exam and how to get your first regular cleaning complimentary.