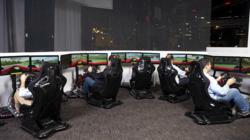 The ability to be in the same room as nine other drivers, all racing against one another, is a unique and fun way to satisfy your competitive racing urge.
Mount Kisco, NY (PRWEB) July 16, 2012
Grand Prix New York (GPNY), the area's leading indoor entertainment and team-building venue, announces the grand opening of The Sim Room – a one-of-a-kind simulated driving experience powered by iRacing. With 10 professional-quality racing simulators, each with three 23" screen monitors, racers from novice to expert can test their skills on some of the most famous racetracks in the world.
Using the latest simulation software from iRacing, racers can get behind the wheel of a Williams Toyota Formula 1, Riley Daytona Prototype, or Ford V8 Super Car (just to name a few) and virtually rip around tracks like Daytona International Speedway, Watkins Glen and Lime Rock Park without having to worry about crashing, fuel costs or tire wear. A simple press of the reset button puts participants back on track and driving again.
The Sim Room, run in conjunction with Motorsport Simulation Consultants, a full service racing simulation company, is available for arrive and drive testing, wheel to wheel racing in groups between two and 10 people, and private rentals for corporate or social events. Private coaching is also available.
"Racing simulation offers aspiring racers and race veterans the opportunity to get their racing fix whenever and wherever they want," said Jon Fontane, President of Motorsport Simulation Consultants. "The ability to be in the same room as nine other drivers, all racing against one another, is a unique and fun way to satisfy your competitive racing urge."
Aspiring junior and adult racers can use The Sim Room to safely learn a track, rather than showing up for the real thing without any experience. Every Tuesday night, GPNY links up all 10 simulators for an open lapping practice session; each week features a different car and track combination. For the ultra-competitive driver, Sim racing leagues are offered similarly to the racing leagues in place for the kart-racing at GPNY.
"I had never tried a Racing Sim prior to it opening at Grand Prix and was curious as to how it would compare with "the real thing," explains GPNY Sim enthusiast Bob Ondrovic of Pound Ridge, whose background includes 14 years of racing/track events including Formula Dodge and Formula 2000 open wheelers "After trying the Sim Room in a Mazda MX-5 "at" Watkins Glen (my 'home track' where I have logged over 7000 miles at speed in my Acura NSX), I was simultaneously impressed with and hooked on the Sim experience! The car handled just as I would have expected in real life and my times became comparable in the sim as on the track."
"The SIM Room is a natural evolution for our business," explains Nat Mundy, Vice President of Marketing for GPNY and Spins Bowl. "We are always looking for ways to improve the customers experience at GPNY. These simulators offer a unique opportunity to do just that."
The Sim Room is open Tuesday through Thursday from 3:00 to 10:00 pm, Friday and Saturday from Noon to 10:00 pm, and Sundays from 10:00 am to 9:00 pm. For more information and updates on open lapping nights, leagues, Ironman races and private coaching, visit the Sim Room on Facebook at https://www.facebook.com/thesimroom or on the web at http://www.gpny.com/indoor-go-karts/sim-room. To see a complete list of available cars and tracks, visit http://www.iracing.com/cars-and-tracks/cars/.
Motorsport Simulation Consultants specializes in the sale and rental of advanced racing simulators for home use, corporate events, trade shows and social gathering. As a full service simulation integrator, the company works with each one of its clients to determine the best product for their specific driving needs and budgets. More information can be found at http://www.gosimracer.com or by emailing jon(at)gosimracer(dot)com.
Grand Prix New York Racing (GPNY) is the only large indoor racing, social entertainment, and corporate event venue in the New York City-metro area. Centrally located in the village of Mount Kisco, New York, GPNY is a unique 118,000-square-foot facility that offers a quarter-mile-long, state-of-the-art racetrack for all ages; Spins Bowl (a 19-lane bowling center and special events services); Fuel restaurant and bar, with award-winning catering; an arcade, carnival room, banquet facility, conference rooms, and more. GPNY is actively involved in community outreach and fundraising efforts. Since its inception in 2008, GPNY has raised hundreds of thousands of dollars for local charities by hosting high-profile fundraising events. For more information about GPNY, visit their website at http://www.gpny.com.