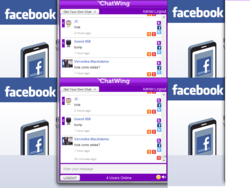 Seattle, WA (PRWEB) July 16, 2012
Chatwing has recently launched a global chat widget meant to boost the niche of Facebook advertising. This chat tool can now be used by bloggers and web surfers across the Internet. As a bonus, Chatwing also features a social media integration feature. Now, bloggers and visitors will get the chance to increase their social networks. The Chatwing application has been introduced in prominent blogging communities such as Blogspot, Wordpress, and Posterous.
According to many bloggers, Facebook advertising has many sides. The Chatwing team has strongly noted this fact and applied it to their new shout box. Facebook advertisers can freely use the Chatwing tool to post links about their pages or groups. In a way, the Chatwing chat tool becomes an inexpensive marketing solution that can be used by everyone.
The Chatwing team has been dedicated to the betterment of the website chat experience, more than a year ago. For months, Chatwing developers have worked hard to upgrade the chat platform and make it run smoother than ever. They encountered technical glitches along the way—something that cannot be avoided but can be minimized by a certain degree. After months of hard work, the Chatwing team has managed to upgrade the user capacity of the shoutbox to 600. In the following months, the team is planning to upgrade it to 1000. With this upgrade, many people will be able to utilize the communication leverage offered by Chatwing.
The expansion to the Facebook community has not yet reached 100%, but the Chatwing team is intent on reaching thousands of Facebook users daily. Despite the rate of competition, the web chat tool is gaining ground naturally, and without the help of paid advertising options. To extend gratitude, the Chatwing team will continue working tirelessly, ensuring that the chat platform will always remain intact, reliable, and swift than ever.
About Chatwing.com
Chatwing.com has developed live chat software for websites and blogs. It caters to different online communities due to its high rate of connectivity. Everyone can create a customizable live chat box feature in 1 minute or less. Users have the ability to customize the size, color, and fonts of the chat product. The ability to chat via social media accounts such as Facebook and Twitter enable Chatwing to offer a personal and unique real-time experience to all sites. Chatwing is 100% free and very easy to use.