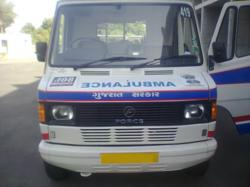 GWTeletrack solution innovates in three main spaces including Pilot, Assimilate, Channel.
Bangalore, Karnataka (PRWEB) July 28, 2012
Telemdicine refers to "Healing given with great care at a distance" and it is a constantly evolving science. Addressing health care problems in villages and tribal areas with less number of Doctors is the major issue & Telemedicine Is one of the solutions .
The global market for Telemedicine is expected to grow $ 27 biilion 2016 and CAGR by19% over next 5 years. The telehospital /clinic market segment was worth $8.1 billion in 2011. This is expected to grow to $17.6 billion in 2016, demonstrating a CAGR of 16.8% between 2012and 2016. Growth prospects of the Telemedicine market vary according to geographies. Among all, Asia is the fastest growing region for the Telemedicine market. There is a substantial rise in demand for Telemedicine in Asian countries such as China and India.
The technology adoption of 3G and High Speed Package Access (HSPA), increasing use of wireless and web-Based services, integration of various devices such as patient alert devices and vital signs recording devices, and hospitals' integrated approach for healthcare delivery are some of the major trends in the global Telemedicine market. Further, all these trends are closely interlinked with each other, both at technology as well as usage level.
Emergency in healthcare immediately spark our mind to remember 108 & 104. Government of India and various State health departments are actively working for achieving World Health Organization (WHO) supported Millennium Development Goals (MDG). To address this issue of timely assistance, organized approach and appropriate channelizing of resources in an emergency, a streamlined operating service such as 108 with the new technology of telemedicine would save millions of people . Science and technology have created a new age today with a world of high speed and reach in every corner; This necessitates in-tandem emergency assistance
Geospatial information system direct immediate incident identification and Geographical positioning systems (GPS) as well as automated vehicle locating technology (AVLT) map ambulances for speedy assignment. Combined cutting edge technologies (telecom, computing, medical and transportation) to create new capabilities for the first time in the World). Supporting video presentation displays technological capabilities at GVK EMRI.
GWTeleTrack
Interchain with a legacy of strong product portfolio in Telematics space, transformed their flagship product GWVectra into a telemedicine dashboard for addressing the need of the day for Ambulance modernization. GWTeletrack,is a suite of hardware and software solutions which spawn from the call center team, systems that run inside the ambulance, dashboard used by the hospital. GWTeletrack uses a variant of GWVectra, powered by Google Android platform is equipped with a touch screen terminal with connectivity to the vehicle and to the internet. GWTeletrack solution innovates in three main spaces including Pilot, Assimilate, Channel.
Pilot
When an emergency is reported to the central control room operator, the system enables the operator to gather preliminary information about the patient suffering from emergency, including the triangulated location of the patient. This captured information is pushed over the air to GWVectra terminal inside the ambulance, which triggers Navigation and provided turn by turn direction to the driver in assisting him reach the target location, avoiding verbal back and forth discussions in navigating.
Assimilate
GWTeletrack also announces automatically to the Medical Officer in the ambulance giving all the preliminary information about the patient thereby getting them well prepared to handle the emergency. GWTeletrack also offers an interactive flow based information capture model, which helps the medical officer feed more information about the patient after getting him onboard into the ambulance. The system is also capable of interfacing with medical equipment on board to collect the critical information. These three sections of information, those fed by control room team, those fed by medical officer and those collected from equipments is transmitted over the air to a console which can be viewed by the medical room team of doctors to advise on the right first aid.
Channel
While administering the first aid, the medical officer is also given the interface to report the response of the patient to the treatment. This realtime information is transmitted live to the hospital dashboard to which the patient can be taken to, giving a room for the hospitals to gain preparedness to handle the case. Taking advantage of the biometric capability of the platform, all the information gathered is biometrically signed by the Medical officer and the information is electronically transferred to the hospital as well as the police authorities thereby avoiding the physical paper transfers.
On the whole, the system dramatically improves the efficiency of the ambulance operations and reduces their time to react to an emergency. One of the first customers who have adopted is solution is GVK EMRI, who have extended support to Interchain by taking this solution to their ambulance operations across the country. After the successful pilot phase, the organizations are currently deploying the solution state by state. Some of the states who have adopted include Tamil Nadu, Gujarat and Assam.
Interchain is looking at partnerships with Telemedicine companies in taking this suite of solution to global markets.
About GWVectra
GWVectra was born after two years of extensive research with the support of Texas Instruments' (TI) high-performance applications processors. Constructed on the improved device architecture and integrated on TI's advanced 45-nm process technology, Interchain has used a variety of hardware to integrate the various local networks used in the car and bridge it along with the Internet. GWVectra is also equipped with Biometric sensor and RFID capability enabling it to track the users and other materials in the vehicle. GWVectra's communication infrastructure is capable of leveraging over any analogue and digital communication methodology including WiFi, Bluetooth, WiMAX, Radio Frequency (RF), ultra high frequency (UHF), very high frequency (VHF) etc. This range of connectivity opens up opportunities to include applications to allow vehicle-to-vehicle communication where one vehicle gathers information from other vehicles like position, speed, drive mode, security alerts and much more. This makes it possible for commuters to interact with each other using mediums such as voice calls, text messages, alerts, and video calls. GWVectra can synchronize information, perform data communication and exchange information gathered in the vehicle, The system has used engine control units (ECU) in the vehicles - i.e. computing devices that control the functioning of the engine and vehicle characteristics. GWVectra interacts with the ECU and provides the user interface with a host of data. It also allows users to control the ECU ECU leveraging on the on-board diagnostics (OBD), media oriented systems transport (MOST) and controlled area network (CAN) communication capabilities.
About Interchain
Interchain, is product company focused towards Telematics hardware and software products. Interchain has spent over 2 years in the development of the customized hardware and software platform which is now ready for industrial adoption. Interchain is looking forward to expanding its client base in the Telemedicine space across the globe with the help of alignment with potential partners.
About GVK EMRI
GVK EMRI (Emergency Management and Research Institute) is a pioneer in Emergency Management Services in India. As a not - for - profit professional organization, GVK EMRI is the only professional Emergency Service Provider in India today. GVK EMRI handles medical, police and fire emergencies through the " 1-0-8 Emergency service". This is a free service delivered through state- of -art emergency call response centres and has over 3160 ambulances across Andhra Pradesh, Gujarat, Uttarakhand, Goa, Tamil Nadu, Karnataka, Assam, Meghalaya, Madhya Pradesh, Himachal Pradesh, Chhattisgarh and 2 Union Territories Dadra & Nagar Haveli and Daman & Diu.