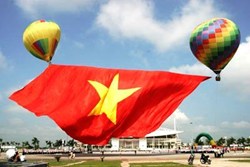 With the updated interface and content, Embassyvietnam.org has long made users satisfied with its offers
(PRWEB) July 15, 2012
Going online for the past 4 years, Embassyvietnam.org has been known as one of the top websites providing information on Vietnam visas all over the world. Rather than just embassy or consulate information, the website also provides customers with the useful contents about other services such as visa, passport, business, and some other important information. The aim is to help travelers when they would like to visit Vietnam.
With the updated interface and content, Embassyvietnam.org has long made users satisfied with its offers. Right at the home page, customers are introduced about Vietnam with the primary visions about its geography and climate, nature, cuisine, tourism, and holiday. If caring about Vietnam, they can get more details in the item "About Vietnam", where the various features of this beautiful country are posted. As what they are seeking, Vietnam visa service is available to support customers. Getting access to Vietnam visa, users will find it convenient and fast to obtain a Vietnam visa by applying visa online. They are offered with an effective application form, accompanied by the information relating fee, requirements, and time. Those who want to book a Vietnam Airlines ticket can get one via online booking center of the website.
The foremost and important goal is to supply a list of embassies or consulates of Vietnam in over 100 cities worldwide. Customers can search their city to find information; otherwise, there is a list of these cities with the names ordered in alphabet. Calling in each page, users will see the details of Vietnam embassy. Especially, the map of each Vietnam embassy is available for help so that customers will find the way there easily. To raise the number of visitors to the web, it constantly upgrades and renews the contents. Indeed, Vietnam Airlines news is updated and posted right on the home page, which is eye-catching to users. Besides, outstanding and useful links are available to help customers. They also can find embassy of Vietnam by country or by city with the attachment of links at the end of the page. Evidently, customers are provided with multiple offers on paying visit embassyvietnam.org.