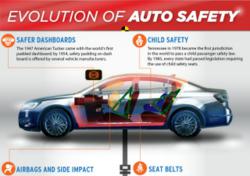 It wasn't until the 1960s when auto safety gained widespread attention...
Irvine, Calif (PRWEB) July 16, 2012
Auto research website zAutos.com has released a new infographic, "The Evolution of Auto Safety," showing the progression of auto technology from the start of the 20th century into today. Drivers now take for granted safety devices such as turn signals, seat belts, child's car seats, and airbags, but these features are all relatively new standards in the American automotive world.
One of the first developments in auto safety technology was the speedometer, which Oldsmobile introduced in 1901. Safety glass windows were also not available in the U.S. until Cadillac introduced the critical feature in 1924. Although the vast majority of today's drivers buckle up, seat belts were nothing more than a novelty throughout the entire 1950s. It wasn't until the 1960s when auto safety gained widespread attention as several government agencies began monitoring the field and a slew of new technologies and auto standards were introduced.
The infographic also takes a look at today's most cutting-edge vehicle technologies and how they make it easier for drivers to stay safe on the road. The tour through auto safety demonstrates how these safety features help combat a new generation of dangers on the road, including distracted driving.
For a glimpse into the automobiles of yesterday, check out the infographic by zAutos. Consumers searching for the latest auto safety trends and other developments in the auto industry can visit the "Auto News" tab on zAutos.com or follow zAutos on Facebook and Twitter.
Along with providing informative automotive news, zAutos.com also provides a wide variety of tools to help consumers kick start their research on a new car with hundreds of car reviews, over 4,000 informative car videos, 10,000 vehicle eBrochures, and dealer quotes. The site allows visitors to customize their own cars with the Build a Car application, while the new Car Concierge guides consumers directly through the process of finding a new car based on categories they value the most. Whether searching for a new car or getting caught up on auto news, zAutos.com is a consumer's go-to resource for automotive information on the web.