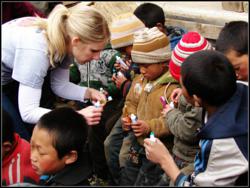 Boulder, Colorado (PRWEB) July 16, 2012
C onscious Journeys (CJ) offers a balanced blend of cultural immersion, sustainable travel and volunteerism excursions to Tibet for professional volunteers and student groups. Examples of past volunteer projects are building greenhouses, performing medical and dental check-ups, and installing solar panels. Volunteers can also work on community-based tourism projects such as building hiking trails, constructing waste bins, offering site clean ups and 'Leave No Trace' environmental ethics training.
Volunteers can join with one of the featured journeys or create a customized journey to suit their own interests. The program offers living and breathing Tibetan cultural experiences, and 30% of the profit from the trips goes back to local communities.
Building a kitchen for the Tagong Orphanage. In December 2011 the students at the Tagong orphanage and monastic school moved into their new building, thanks to the efforts of Tibetan Village Project donors and Conscious Journeys project participants. For 2013 CJ would like to build a new kitchen for the school, to replace the existing run-down facilities. The school houses about 50 students and their teachers.
Fix courtyard and install basketball court at Tagong Orphanage. The courtyard is currently a medium-sized patch of dirt that turns very muddy during periods of rain and snow. With a cement courtyard and basketball court the students would be able to have outdoor sports and play time. CJ would like to recruit a volunteer group to raise funds and oversee this project.
Install solar-powered lights for the Tagong Orphanage courtyard and kitchen. The success of this year's mission to install solar power cells in the Sihurong clinic sets a precedent for developing future sustainability-focused projects. The Tagong Orphanage needs an affordable and sustainable source of light for the courtyard and kitchen area.
Conscious Journeys can also customize 2-week trips for groups with at least four participants. Current customizable projects include building composting toilets and installing solar showers. There are also projects available that focus on developing community-based tourism, such as training local hosts, guesthouse owners, homestay families, cooks, drivers and helping them develop unique itineraries. Please contact us.
Conscious Journeys is the volun-tourism program of the NGO Tibetan Village Project. Tours focus on providing services to local communities, practicing sustainable travel, supporting local businesses and connecting in a positive and meaningful way with Tibetan communities across the plateau.