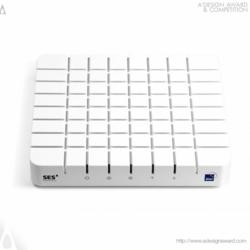 Como, Italy (PRWEB) July 16, 2012
A' Award and Competitions are happy to inform that the project Skyedge II Aries by Gilat has been honored with the prestigious Bronze A' Design Award at Digital and Electronic Devices Design Competition highlighted as one of the winners by the respected judging committee of the A' Design Awards & Competitions among a great number of submissions.
More information on Skyedge II Aries
Trim Industrial Design, the creative mind behind the winning project Skyedge II Aries For Gilat explains "The "Skyedge II Aries" is a domestic satellite communication modem that represents a new generation of satellite network devices.The heat dissipation was a serious problem. The solution was to create a pattern that maximizes heat dissipation while hiding the ventilation openings. To keep the simplicity, we integrated the led lights into the pattern geometry. We decided to make all the surfaces and details at straight angles creating a simple basic form that integrates into the surrounding architectural environment." Learn more and download high-resolution photos at: http://www.adesignaward.com/design.php?ID=24880
Project Members for the Award Winning Design
Skyedge I I Aries For Gilat was made by Gustavo Turkieltaub and Andres Wainstein.
The Bronze A' Design Award
The Bronze A' Design Award is a prestigious award given to top 10% percentile designs that has exhibited an exemplary level of excellence in design. The designs are judged by a panel of three different jury which is composed of Academic, Professional and Focus Group Members. The designs are evaluated with score normalization to remove any biases and are voted on aspects such as functionality, ergonomics, engineering, presentation, innovation, usability, fun details, technology, and any other specific points that could be considered, each of these points are further weighted for different jury groups.
About A' Design Award and Competitions
A'Design Award and Competitions, aims to highlight the excellent qualifications of best designs, design concepts and design oriented products. A' Design Award and Competitions are organized and awarded annually and internationally in multiple categories to reach a wide, design-oriented audience. Learn more at: http://www.whatisadesignaward.com