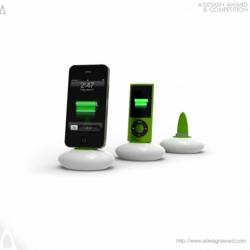 Como, Italy (PRWEB) July 16, 2012
A' Award and Competitions are proud to inform that the project Stonedock by has been awarded with the renowned A' Design Award in Digital and Electronic Devices Design Category picked as one of the winners by the transnational jury members of the A' Design Awards & Competitions among a great number of works.
More information on Stonedock
Xavier Houy, the creative mind behind the winning design Stonedock explains "The StoneDock automatically starts charging by simply plugging your iPhone or iPod on the connector. When the device is fully charged or unplugged, it will automatically shut off with ZERO idle power to save energy waste and your device battery. With STONEDOCK GreenZERO we could save 47 Mega Tons of CO2 every year for 70 million users" Learn more about this design: http://www.adesignaward.com/design.php?ID=25552
The A' Design Award
The A' Design Award is a prestigious award given to top 20% percentile designs that has delivered an exemplary level of excellence in design. The designs are judged by a panel of three different jury which is composed of Academic, Professional and Focus Group Members. The designs are evaluated with score normalization to remove any biases and are voted on aspects such as functionality, ergonomics, engineering, presentation, innovation, usability, fun details, technology, and any other specific points that could be considered, each of these points are further weighted for different jury groups.
About A' Design Award and Competitions
A'Design Award and Competitions, aims to highlight the excellent qualifications of best designs, design concepts and design oriented products. A' Design Award and Competitions are organized and awarded annually and internationally in multiple categories to reach a wide, design-oriented audience. Learn more: http://www.whatisadesignaward.com