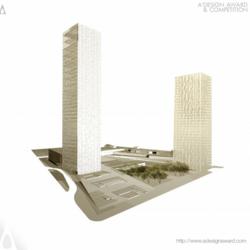 Como, Italy (PRWEB) July 14, 2012
A' Award and Competitions are delighted to share that the work High-Rise Structures: Porto Rio De Janeiro by Luiz Mario Xavier and Paula Werneck became winner of the noteable Silver A' Design Award in Architecture, Building and Structure Design Category highlighted as the winner by the transnational awarding commission of the A' Design Awards & Competitions within thousands of projects.
Winner Design: High-Rise Structures: Porto Rio De Janeiro
Paula Werneck, the creator of the awarded project High-Rise Structures: Porto Rio De Janeiro says "Brazil is going through a crucial moment in the international scenario. The World Cup 2014 and the Olympic Games in 2016 requires several changes throughout the country but particularly in Rio de Janeiro. Aiming at the requirements of these events, the project presented is originated from the mixed use: a convention center, a hotel, a business center, shops and apartments. All the aspects are very well integrated by the public square wich is the main feature of this project inviting the public space into the private building and so it becomes an open block.Unique within a chaotic environment." Learn more at: http://www.adesignaward.com/design.php?ID=25370
The Silver A' Design Award
The Silver A' Design Award is a prestigious award given to top 5% percentile designs that has delivered an exemplary level of sublimity in design. The designs are judged by a panel of three different jury which is composed of Academic, Professional and Focus Group Members. The designs are evaluated with score normalization to remove any biases and are voted on aspects such as functionality, ergonomics, engineering, presentation, innovation, usability, fun details, technology, and any other specific points that could be considered, each of these points are further weighted for different jury groups.
About A' Design Award and Competitions
A'Design Award and Competitions, aims to highlight the excellent qualifications of best designs, design concepts and design oriented products. A' Design Award and Competitions are organized and awarded annually and internationally in multiple categories to reach a wide, design-oriented audience. Learn more: http://www.whatisadesignaward.com