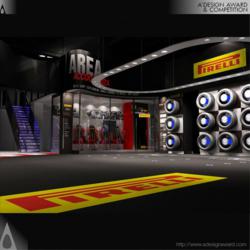 Como, Italy (PRWEB) July 16, 2012
A' Award and Competitions are proud to see that the design Pirelli Tyres Shopping Experience by Alessandro Luciani Retail Designer has been acknowledged with the famous Platinum A' Design Award at Interior Space and Exhibition Design Competition elected as a winner by the esteemed jurors of the A' Design Awards & Competitions among numerous projects.
About Pirelli Tyres Shopping Experience
Alessandro Luciani, the creator of the winning design Pirelli Tyres Shopping Experience explains "The inspiring principles of the project consist in transforming the prospective clients' approach towards their tire-dealers and directly involving them in the choice/purchase process. We tried to add new tools which can provide new experiences. Feeling through feelings. Perceiving through the 5 senses. Visual Merchandising. Communication. Products. Environment. Finding a new way of communication, more effective than the simple gadgets which invade the tyres sector, but leaving, however, its technical characteristics and charm unchanged. " To learn more visit: http://www.adesignaward.com/design.php?ID=25098
The Platinum A' Design Award
The Platinum A' Design Award is a prestigious award given to top 1% percentile designs that has accomplished an exemplary level of excellence in design. The designs are judged by a panel of three different jury which is composed of Academic, Professional and Focus Group Members. The designs are evaluated with score normalization to remove any biases and are voted on aspects such as functionality, ergonomics, engineering, presentation, innovation, usability, fun details, technology, and any other specific points that could be considered, each of these points are further weighted for different jury groups.
About A' Design Award and Competitions
A'Design Award and Competitions, aims to highlight the excellent qualifications of best designs, design concepts and design oriented products. A' Design Award and Competitions are organized and awarded annually and internationally in multiple categories to reach a wide, design-oriented audience. To learn more visit: http://www.whatisadesignaward.com