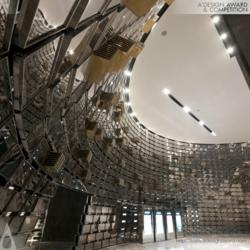 Como, Italy (PRWEB) July 17, 2012
A' Award and Competitions are delighted to share that the project Wuhan Pixel Box Cinema by Mr. Ajax Law Ling Kit and Ms. Virginia Lung has been granted the prestigious Platinum A' Design Award at Interior Space and Exhibition Design Competition chosen as one of the winners by the esteemed judging committee of the A' Design Awards & Competitions among thousands of works.
More information on Wuhan Pixel Box Cinema
One Plus Partnership Ltd, the designer of the awarded work Wuhan Pixel Box Cinema says ""Pixel" is the basic element of images, designer explores relationship of movement and pixel to become the theme of this design. "Pixel" is applied in different areas of the cinema. The box office grand hall houses a tremendous curved envelop formed by over 6000 pieces of stainless steel panels. The feature display wall is decorated with huge amount of square strips protruding from the wall is presenting the glamorous name of cinema. Inside this cinema, everyone would enjoy the great atmosphere of digital world generated by the cohesion of all "Pixel" elements. " Learn more about the award winning design: http://www.adesignaward.com/design.php?ID=25316
Project Members for Wuhan Pixel Box Cinema
Wuhan Pixel Box Cinema was made by Mr. Ajax Law Ling Kit and Ms. Virginia Lung
The Platinum A' Design Award
The Platinum A' Design Award is a prestigious award given to top 1% percentile designs that has accomplished an exemplary level of excellence in design. The designs are judged by a panel of three different jury which is composed of Academic, Professional and Focus Group Members. The designs are evaluated with score normalization to remove any biases and are voted on aspects such as functionality, ergonomics, engineering, presentation, innovation, usability, fun details, technology, and any other specific points that could be considered, each of these points are further weighted for different jury groups.
About A' Design Award and Competitions
A'Design Award and Competitions, aims to highlight the excellent qualifications of best designs, design concepts and design oriented products. A' Design Award and Competitions are organized and awarded annually and internationally in multiple categories to reach a wide, design-oriented audience. To learn more visit: http://www.whatisadesignaward.com