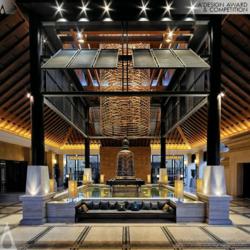 Como, Italy (PRWEB) July 17, 2012
A' Award and Competitions are proud to inform that the work Ripple Club House by Kris Lin has been honored with the famous Platinum A' Design Award at Interior Space and Exhibition Design Competition highlighted as a winner by the respected referees of the A' Design Awards & Competitions amidst a great number of participants.
About Ripple Club House
Kris Lin, the creative mind behind the awarded work Ripple Club House says "This case is positioned to be a high-end club, where celebrities are expected to gather. The overall style is a new style of Orientalism based on the concept of resort hotels in southeast Asia. It features a lobby, bar, tea, and video hall, VIP room, swimming pool, gym and dance studio and so on. Its interior space is very open, and has a very inclined roof, the ceilings are expected to show the feeling of wooden buildings of Southeast Asia, so the use of truss in the ceiling design and integration of the lighting in the trussed ceilings, make the whole building full of harmony and an exemplary project of new Orientalism of Southeast Asian-style." Learn more: http://www.adesignaward.com/design.php?ID=24044
Project Members for Ripple Club House
Ripple Club House was concieved by Kris Lin - Lead Design Director and Jiayu Yang - Design Director.
The Platinum A' Design Award
The Platinum A' Design Award is a prestigious award given to top 1% percentile designs that has delivered an exemplary level of quality in design. The designs are judged by a panel of three different jury which is composed of Academic, Professional and Focus Group Members. The designs are evaluated with score normalization to remove any biases and are voted on aspects such as functionality, ergonomics, engineering, presentation, innovation, usability, fun details, technology, and any other specific points that could be considered, each of these points are further weighted for different jury groups.
About A' Design Award and Competitions
A'Design Award and Competitions, aims to highlight the excellent qualifications of best designs, design concepts and design oriented products. A' Design Award and Competitions are organized and awarded annually and internationally in multiple categories to reach a wide, design-oriented audience. To learn more visit: http://www.whatisadesignaward.com