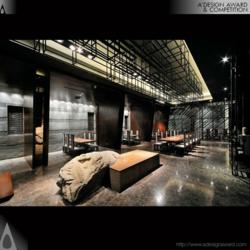 Como, Italy (PRWEB) July 17, 2012
A' Award and Competitions are encouraged to announce that the work Haneda Japanese Restaurant by Kris Lin has been honored with the famed Golden A' Design Award in Interior Space and Exhibition Design Category elected as a winner by the transnational arbiters of the A' Design Awards & Competitions amidst a great number of submissions.
About Haneda Japanese Restaurant
Kris Lin, the creative mind behind the awarded work Haneda Japanese Restaurant explains "In a perfect dining experience, the most important thing is exquisite cuisine, matching the soul-level feeling of space.The perfect combination of vision and taste is the best culinary experience. In pursue a feeling of quietness in overall design, and by making use of the performance on texture of concrete, we expected to create a kind of introverted and calm feeling. A piece of natural raw stone is placed at the entrance, and the water is flowing quietly in the gap of the raw stone, representing the vitality of life. Many iron crafts were designed to make room to have more levels. " Learn more about the award winning design: http://www.adesignaward.com/design.php?ID=24060
Creative Team for Haneda Japanese Restaurant
Haneda Japanese Restaurant was made by Kris Lin - Lead Design Director and Jiayu Yang - Design Director.
The Golden A' Design Award
The Golden A' Design Award is a prestigious award given to top 3% percentile designs that has exhibited an exemplary level of quality in design. The designs are judged by a panel of three different jury which is composed of Academic, Professional and Focus Group Members. The designs are evaluated with score normalization to remove any biases and are voted on aspects such as functionality, ergonomics, engineering, presentation, innovation, usability, fun details, technology, and any other specific points that could be considered, each of these points are further weighted for different jury groups.
About A' Design Award and Competitions
A'Design Award and Competitions, aims to highlight the excellent qualifications of best designs, design concepts and design oriented products. A' Design Award and Competitions are organized and awarded annually and internationally in multiple categories to reach a wide, design-oriented audience. Learn more: http://www.whatisadesignaward.com