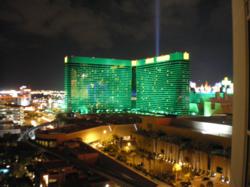 This concert will have music from every genre out there
Las Vegas, NV (PRWEB) July 14, 2012
Where can you find superstars such as Taylor Swift, Aerosmith, Rihanna, Bon Jovi and Usher performing at the same place at the same time??? Yes, there is such an event and it is called the iHeart Radio Music Festival and 2012 will be its second year. The festival was such a smashing success in 2011 that concertgoers were already marking their calendars for 2012. Ryan Seacrest is the Master of Ceremonies and this gala event will be on Friday, September 21 and Saturday, September 22 at the MGM Grand in Las Vegas.
The schedule of performers for Friday 9/21 is as follows:
Rihanna
Usher
Lil Wayne
Green Day
Swedish House Mafia
No Doubt
Miranda Lambert
Jason Aldean
Shakira
The schedule of performers for Saturday 9/22 will be as follows:
Taylor Swift
Aerosmith
Bon Jovi
Brad Paisley
Pitbull
Deadmau5
Enrique Iglesias
Linkin Park
PINK
Mary J. Blige
Calvin Harris
The long awaited announcement of the lineup for the 2012 iHeart Radio Music Festival came on Monday, July 9th from Ryan Seacrest. It's been a long time since some of these top notch performers have been on tour which makes this gala event even more exciting. This concert will have music from every genre out there with artists specializing in Rythm & Blues, Rappers, Country Singers, Love Songs, a DJ and more. Some of the superstars performing at the 2011 Festival were: Steven Tyler, Nicki Minaj, Lady Gaga and Carrie Underwood.
This music festival is also meant to promote Clear Channel's IHeart Radio digital music service which is heard on hundreds of stations nationwide. The two-day concert will also be broadcast live on all affiliated radio stations.
CheapConcertTickets.me delivers tickets to sold out concerts and events worldwide when no one else can and they do so at discounted prices. As an affiliate of the Ticket Network Exchange, they can guarantee delivery of tickets on time for sporting events like NASCAR, NBA, NFL AND NHL, and for the hottest theater and concert events too. With CheapConcerttickets.me customer service is a priority, for more information email support(at)cheapconcerttickets(dot)me or visit http://www.cheapconcerttickets.me.