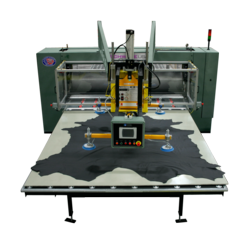 "Our new Roller Press design also has a number of special features and benefits, that we incorporated with feedback from potential customers based on their needs."
Cincinnati, Ohio (PRWEB) July 16, 2012
SCHWABE USA is proud to present the New and Improved SCHWABE die cutting Roller Press, made in Cincinnati, Ohio, USA.
The SCHWABE Roller Press is the ideal machine to die cut natural or synthetic materials, such as leather including half and full hides, cloth, cardboard, composites, and gaskets to name a few.
With the simplicity and purity of the Herman Schwabe based design, this EXTRA Heavy Duty SCHWABE Roller Press can be operated by a single operator for a single operating station or up to twelve operating stations with operators depending on production needs and requirements.
As with all SCHWABE USA Presses the Roller Press meets USA OSHA Safety requirements as well as European CE Safety regulations.
Greg DeFisher, President and CEO of Freeman Schwabe Machinery added "The SCHWABE Roller Press is torsionally stiff for superior manufacturing performance, with a simplified leveling structure and built extra strong for heavy duty die cutting, unlike most of the lightweight roller presses on the market today.
"Our new Roller Press design also has a number of special features and benefits, that we incorporated with feedback from potential customers based on their needs."
Let's look at the Top 5 features of the new Roller Press
Double die detectors mounted on each side of press
– Ensures dies are not damaged thereby extending their life
Self-Aligning roller bearings
– Maximizes the fatigue life of the journals
Removable roller journals

Allows roll change-out at reduced cost
Mechanical components are easily accessible

Provides easier maintenance
2 driven transfer stations with timing belt feed belts & pulleys

Superior design to friction driven belts as they tend to stretch"
Greg DeFisher outlined the initial customer response with, "Customers who have inspected our new die cutting Roller Press are extremely positive, and we have already received a number of inquiries from Automotive Trim Cover suppliers who precision die cut full and half leather hide, for seating and other interior components."
Watch the Video of our new Roller Press in a Demo Operation on SCHWABE Channel on YouTube
SCHWABE die cutting Roller Press - Features & Specifications
Standard roller face width 70" / 100"/ 120" (custom widths available)
•Roller Diameter: 18"
•Working Height: 36"
•Daylight Opening: ¾" - 7"
•Programmable Height Settings: ¾" – 7"
•Cutting Cycle Speed: 28 seconds
•Infeed / Outfeed Support Tables: 96"W x 108"L x 36"H
•Gap adjustment accuracy is +/- 0.001"
•Gap adjustment increments in 0.001" steps
•Up to 500 stored programmable height settings
•Optional barcode die recognition
•Remote diagnostics is standard (SCHWABE KPI Dashboard)
Summary of Benefits of new SCHWABE die cutting Roller Press
The new Roller Press is based on the Herman Schwabe engineering heritage in the latest technical design for quality and dependability
Engineered by SCHWABE the OEM, the Roller Press is built extra strong to last longer and to meet the needs of the most rugged manufacturing demands.
The Roller Press has a distinct economic advantage when manufacturing requires a large number of linear inches of die rule, when high cutting pressure required.
SCHWABE USA offers a wide range of options available depending on manufacturing process and will customize to meet your application needs.
Contact Freeman Schwabe for more information sales(at)freemanschwabe(dot)com
Call +1 513 947 2888