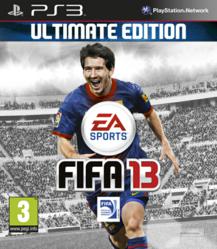 (PRWEB) July 24, 2012
On September 28th, fans of the best-selling sports franchise of all time – EA's FIFA – will be able to get their hands on a copy of FIFA 13. However, FIFA13.com has recently announced their giveaway of 250 copies of FIFA 13 Ultimate Edition that can be obtained without having to leave the home. Highlighting features of FIFA 13 will be:

Attacking Intelligence
Tactical Freekicks
Improved First Touch Control
Complete Dribbling
Returning will be the FIFA 13 Ultimate Team design – where fans can build an ultimate team of football superstars. FIFA 13 Ultimate Team brings the massive FIFA online community together with fans building, managing, and competing with their ultimate football team from the world's best players.
The 3 steps are simple; one only has to like their facebook page, follow them on twitter, and send an email to entry (at) fifa13 (dot) com with the subject line "FIFA 13 Competition".
The contestant's information must include their Twitter username that is being used to follow FIFA 13 and the name of the facebook account that has "liked" the FIFA 13 page.
Included in the Ultimate Edition FIFA 13 game are the Gold Packs that will be received every week, for 24 weeks, to bolster a player's FIFA 13 Ultimate Team. Also included are 10,000 EA Sports football club credits, which can be used to buy additional content within the game. Special content includes special celebrations, Virtual pro attribute boosts, extra matches in Head-to-head Seasons mode, and more from the EA Sports football club catalogue.
You can read more about the competition at: http://www.fifa13.com/news/250-copies-of-the-upcoming-fifa-13-ultimate-edition-game-to-be-won/1739/
About FIFA13.com
FIFA13.COM is a news site that is dedicated in providing the latest news on FIFA 13. FIFA13.COM provides the latest FIFA 13 news, FIFA 13 tips and general FIFA 13 news.
Contact:
Ashley Clarke,
contact (at) fifa13 (dot) com
07402914306