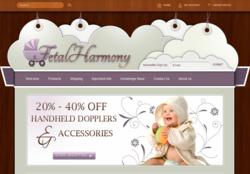 Our goal is to be a one-stop shop to fulfill the needs of pregnant women and continue to expand our product line in doing so
(PRWEB) July 16, 2012
FetalHarmony announced today the launch of their new feature rich website. The new website offers fetal dopplers at affordable prices so that Obstetricians, Midwives, and even expecting mothers can listen to a baby's heartbeat as early as 12 weeks into a pregnancy.
A complete redesign of FetalHarmony includes a new color scheme, easier navigation, and one-page checkout for faster transactions. A FetalHarmony makeover wouldn't have been complete without a new logo which is a baby stroller followed by the company name. The overhauled website contains a homepage that lists discounts offered and featured products. Each product page contains social media sharing buttons to include Twitter, Google Plus, Facebook, and Pinterest. If a particular product is no longer in stock, a customer can now request to be notified once inventory has been refilled. Another significant enhancement to the site is that each product page contains product reviews from customers who recently purchased that particular product. These reviews cannot be submitted by anyone visiting the site and are limited only to customers who have purchased the product from FetalHarmony.
A Knowledge Base section of the website was added to provide important information to customers without having to send unsolicited emails. An example of information that customers can find in the Knowledge Base include tips on how to use a fetal doppler.
FetalHarmony's President and Founder, Matthew Winik says, "To hear your baby's heartbeat in your own home for the first time is a joyous feeling that cannot be explained in words. We want to help expecting mothers and fathers by providing them with the ability to bond with their unborn child for the first time in their home. Our goal is to be a one-stop shop to fulfill the needs of pregnant women and continue to expand our product line in doing so."
FetalHarmony was designed to help expecting parents by providing affordable fetal doppler options that will allow them to hear the first audible sounds that their little one produces, the heartbeat. The company name was created by combining the words fetus and harmony. The importance of these two words together signifies the miraculous development of the fetus along with harmonious sound of the heartbeat.