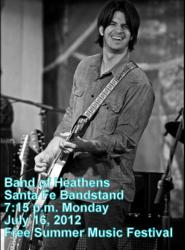 Santa Fe, New Mexico (PRWEB) July 14, 2012
The Santa Fe Bandstand performers for Week 3 Day 1 are Band of Heathens and Todd & The Fox. They are scheduled to play from 6 to 8:30 p.m., Tuesday, July 10, 2012. Santa Fe Bandstand is a free summer music festival on the Santa Fe Plaza, produced by Outside In Productions and a crew that strives to present the city with a wide range of performers, who represent the diversity and wealth of musical talent in this region. Performances take place Monday to Thursday, through August 16, 2012. All shows are free and open to the public. During evening performances, the first act begins around 6 p.m., the headlining act performs at approximately 7:30 p.m. This day's event and the entire Santa Fe Bandstand Summer Music Festival is on SantaFe.com's event calendar.
The Band of Heathens are an American Rock and Roll band from Austin, Texas. Since emerging as a favorite new live band out of Austin in the late 2000s, the Band of Heathens has toured relentlessly, building a devoted following and landing on some of the finest stages in music. Over three studio albums and hundreds of shows each year, they've evolved as a group and broadened their sound. Their most recent album Top Hat Crown & The Clapmaster's Son spiked the already potent punch with a dash of jammy psychedelia.
Todd & the Fox creates banjo-driven, award-winning, venue-shaking, roots-rock and electronic music. Emerging from the art-steeped, high desert crossroads of northern New Mexico, Todd & the Fox began as a side project for band members Todd Eric Lovato and Erik Sawyer in early 2011. The duo quickly found itself center stage and propelled to the forefront of the region's music scene, as audiences and music critics alike responded gleefully to the band's minimalist hybrid of dance-oriented roots, country, folk and electronic music.
About SantaFe.com:
SantaFe.com provides Santa Fe and visitors to Santa Fe alike the most current interactive platform for events, music, arts, business, dining, and lifestyle. SantaFe.com is a division of Hutton Broadcasting, located at 2502 C. Camino Entrada, Santa Fe, NM 87507
Contact Information:
Scott Hutton
SantaFe.com / Hutton Broadcasting
(505) 471-1067 (Media inquiries only, please)