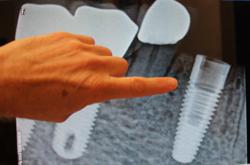 Avoiding unnecessary risks is of prime importance in dental surgical procedures, and can be successfully accomplished today with bone substitutes, said Dr. Robert Korwin.
Middletown NJ / Red Bank, NJ (PRWEB) July 17, 2012
Middletown NJ Dentist Dr. Robert Korwin is now using a new bioactive synthetic putty product with remarkable success and is happy to provide an effective, efficient and pain and disease free alternative to conventional bone grafting in his implant and oral surgery procedures.
Typical implant placement into sockets which are left by lost teeth requires grafting to ensure that bone fills the spaces between the implant and the remaining bone. A graft material fills the space and keeps gum tissue from filling the space instead of bone. Calcium products are very effective and valuable in performing the space maintaining function. Even in cases where no implant is to be placed, bone preservation is important for proper esthetics, and preventing loss of bone, or a deformed appearance following oral surgery.
Initial methods of bone grafting to promote bone regrowth involved the use of cadaver bone and animal bone. The use of human bone banks and animal bone products increased the risk of disease transmission, although extraordinary processing measures were taken with the products to eliminate disease vectors. The use of an artificial bone eliminates the risks associated with human or animal donors entirely and provides a safer, anxiety free alternative to harvested bone in oral surgery and dental care.
The NovaBone synthetic graft used by Dr. Korwin contains calcium phosphosilicate which releases silicon, calcium and phosphate ions that accelerate and stimulate gene families to repair and regenerate bone. NovaBone has been demonstrated in studies to be replaced by host bone in 6 to 7 months, and is ready for implant placement even earlier.
Patients in Dr. Korwin's practice who have had NovaBone placed in their implant and dental extraction sites have all been very satisfied to report no pain after the procedure. They have exhibited remarkably rapid and uneventful healing in the implant and graft sites. Dr. Korwin is proud to be a leader in the use of safer and more comfortable implant procedures.
About Dr. Robert Korwin
Robert Korwin DMD, MICOI, MAGD is a renowned general dentist with 30 years of experience, teaching innovating, and practicing in Middletown NJ and Red Bank, NJ. Dr. Korwin has practiced Implantology, Orthodontics, Periodontal Surgery Dental Esthetics, Sedation, Prosthodontics, and many other dental areas for over three decades. He also received three patents in dentistry, and has helped manufacture dental products and launch dental software and training companies.
With extensive academic, clinical and didactic training, he is one of only a handful of dentists worldwide who have dual Mastership awards from The Academy of General Dentistry and The International College of Oral Implantologists. Dr. Korwin is a highest honors graduate of Progressive Orthodontic Seminars, awarded to only 2 of 4,000 students in 24 years Dr. Korwin promotes excellence in preventing orally linked disease and provides highly cosmetic dental repair and reconstruction utilizing orthodontics, implants, surgery, prosthetics and sedation, with laser, digital and computer assisted diagnostics. The practice provides a one stop dental experience and coordinates with patients to maximize their dental health, ensure their comfort and minimize financial concerns.
For more information, please visit http://www.drkorwin.com or call (732) 219-8900.
Media Contact
Robert Korwin DMD
732-219-8900
http://www.drkorwin.com
###