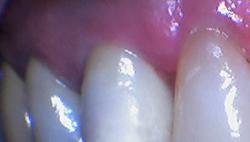 Replacement of fractured teeth with dental implants provides a beautiful dental cosmetic result with no pain! said Dr. Korwin
Middletown NJ,Red Bank, NJ (PRWEB) July 24, 2012
When a patient of Middletown NJ Dentist Dr. Robert Korwin broke their front tooth, his dental team went into action. Painlessly and atraumatically removing the broken root, they quickly placed an implant and NovaBone synthetic bone graft material. Dr. Korwin fabricated a temporary abutment and converted the existing porcelain crown to cement onto the implant and abutment while the extraction site is healing. Four days later, as the photo shows, the extraction area feels and looks perfect, and the patient reports the procedure was perfectly painless.
Modern implant science can provide an immediate solution to an age old problem. In the past when teeth were lost, replacements could take days, weeks, or months. Today, new technology and better methods can replace a tooth the same day it is lost. Profound training, experience and skill are required before this procedure is successfully attempted. Dr. Korwin has extensive training and experience in implant placement and oral surgery. He has earned a Mastership in the International College of Oral Implantologists, and has placed implants for many years.
Although not everyone is a candidate for immediate implant placement and restoration, most people with fractured or missing teeth can have implant replacements the same day. Dr. Korwin is pleased to provide an effective, efficient and pain and disease free alternative to dentures in his general dental practice which includes implant and oral surgical procedures.
In immediate implant placement, careful attention to detail provides the best results. After a period of healing, impressions are taken for a new crown, and a new one is subsequently placed on the implant. In some cases a second periodontal plastic surgery, performed by Dr. Korwin is used to sculpt the tissue into the best esthetic result.
The NovaBone synthetic graft used, eliminates the risks associated with human or animal donors entirely and provides a safer, anxiety free alternative to harvested bone in implant and oral surgery.
Patients in Dr. Korwin's practice who have had dental implants placed have been very satisfied to report no pain after the procedure. They have exhibited remarkably rapid and uneventful healing in the implant and graft sites. Dr. Korwin is proud to be a leader in the use of safe and comfortable implant procedures.
About Dr. Robert Korwin
Robert Korwin DMD, MICOI, MAGD is a renowned general dentist with 30 years of experience, teaching innovating, and practicing in Middletown NJ and Red Bank, NJ. Dr. Korwin has practiced Implantology, Orthodontics, Periodontal Surgery Dental Esthetics, Sedation, Prosthodontics, and many other dental areas for over three decades. He also received three patents in dentistry, and has helped manufacture dental products and launch dental software and training companies.
With extensive academic, clinical and didactic training, he is one of only a handful of dentists worldwide who have dual Mastership awards from The Academy of General Dentistry and The International College of Oral Implantologists. Dr. Korwin is a highest honors graduate of Progressive Orthodontic Seminars, awarded to only 2 of 4,000 students in 24 years Dr. Korwin promotes excellence in preventing orally linked disease and provides highly cosmetic dental repair and reconstruction utilizing orthodontics, implants, surgery, prosthetics and sedation, with laser, digital and computer assisted diagnostics. The practice provides a one stop dental experience and coordinates with patients to maximize their dental health, ensure their comfort and minimize financial concerns.
For more information, please visit http://www.drkorwin.com or call (732) 219-8900.
Media Contact
Robert Korwin DMD
732-219-8900
http://www.drkorwin.com