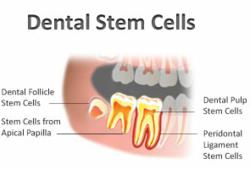 Banking your family dental stem cells will prove to be a common prodecure in the very near future.
Middletown NJ, Red Bank, NJ (PRWEB) July 25, 2012
Middletown NJ Dentist Dr. Robert Korwin is launching a service to preserve stem cells inside extracted teeth. By participating with Provia Laboratories, their Store a Tooth service provides access to technology to save the adult stem cells inside extracted teeth for future potential dental and medical uses.
Extracted teeth are a simple and convenient source of potent stem cells. Stem cells help the body renew and repair itself. These stem cells have been shown to regenerate bone in clinical studies. Scientists and clinicians are investigating many additional uses for stem cells from teeth such as for repairing or building new teeth, treating spinal cord injury, diabetes, Parkinson's disease and other important uses in dentistry and medicine. Individuals or families who store their dental stem cells may be better prepared to benefit from breakthroughs and advances being developed around the world.
Patients who are scheduled to lose primary (baby) or adult teeth can now choose to save their teeth rather than discard them, and bank them at Provia for future use. Wisdom teeth and baby teeth that are free of infection have the ability to be banked for harvesting stem cells.
These dental stem cells are adult cells and are not controversial embryonic stem cells. Only adult stem cells, to date, have been used to treat people. The most commonly known source of adult stem cells is bone marrow, used in bone marrow transplants, and in teeth.
After a consultation with Ellen Bereza, Territory Sales Manager at Provia Laboratories, LLC, who reviewed the patient benefits and experience of Provia, Dr. Korwin decided to provide this service for his patients who have their own future health in mind.
About Dr. Robert Korwin
Robert Korwin DMD, MICOI, MAGD is a renowned general dentist with 30 years of experience, teaching innovating, and practicing in Middletown NJ and Red Bank, NJ. Dr. Korwin has practiced Implantology, Orthodontics, Periodontal Surgery Dental Esthetics, Sedation, Prosthodontics, and many other dental areas for over three decades. He also received three patents in dentistry, and has helped manufacture dental products and launch dental software and training companies.
With extensive academic, clinical and didactic training, he is one of only a handful of dentists worldwide who have dual Mastership awards from The Academy of General Dentistry and The International College of Oral Implantologists. Dr. Korwin is a highest honors graduate of Progressive Orthodontic Seminars, awarded to only 2 of 4,000 students in 24 years Dr. Korwin promotes excellence in preventing orally linked disease and provides highly cosmetic dental repair and reconstruction utilizing orthodontics, implants, surgery, prosthetics and sedation, with laser, digital and computer assisted diagnostics. The practice provides a one stop dental experience and coordinates with patients to maximize their dental health, ensure their comfort and minimize financial concerns.
For more information, please visit http://www.drkorwin.com or call (732) 219-8900.
Media Contact
Robert Korwin DMD
732-219-8900
http://www.drkorwin.com
###