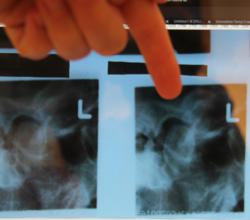 Fortunately this condition frequently resolves without surgery, said Dr. Robert Korwin
Middletown / Red Bank, NJ (PRWEB) July 31, 2012
Middletown, NJ Dentist Dr. Robert Korwin helped a patient with severe jaw spasm and jaw lock with a regimen of appliances, exercises and medication.
The Temporo Mandibular joint located at the junction between the lower and upper jaws can be very prone to problems in some people. Subconscious clenching can fatigue the muscles, resulting in jaw spasm. Sometimes the mouth is either forced to stay open, or cannot open at all. This problem can be very painful and embarrassing to the patient who is suffering from it. The cause may range from mal- occlusion, to severe stress with pronounced teeth clenching, to arthritis, or to congenital malformations of the bone, cartilage and skull.
The tendons supporting the joint can be stretched out of shape by long term clenching, and when this happens the capsule or pillow between the upper and lower jaws becomes misplaced, and cannot return to its functional position. Sometimes it can be coaxed back into position non surgically, and sometimes, surgery is needed to correct this problem.
Dr. Korwin has successfully treated this condition many times in the past. In this case, a non-surgical approach was elected by the patient and the treatment began with a prescription for a muscle relaxant at night, simple jaw exercises, restriction of types of foods eaten, and an appliance to reposition the lower jaw to encourage the repositioning of the capsule and the stretched ligaments.
After two weeks of continual improvement the patient felt remarkably better, and was able to open her mouth to same amount as before her traumatic episode. Although, since the ligaments are stretched, a relapse is common, attention to preventive measures such as avoiding crunchy foods that require hard chewing can help, along with restricting daytime clenching, using a night time appliance, and avoiding chewing gum.
Most cases will recover uneventfully, but when surgery is needed, it can be remarkably effective as well.
In one unusual case, Dr. Korwin evaluated a patient who experienced trauma to the jaw, causing restricted opening from capsular traumatic misplacement. By a strange coincidence the patient experienced a second almost identical trauma shortly thereafter, which then traumatically repositioned the capsule into its correct location, returning the patient's ability to open the mouth fully.
About Dr. Robert Korwin
Robert Korwin DMD, MICOI, MAGD is a renowned general dentist with 30 years of experience, teaching innovating, and practicing in Middletown NJ and Red Bank, NJ. Dr. Korwin has practiced Implantology, Orthodontics, Periodontal Surgery Dental Esthetics, Sedation, Prosthodontics, and many other dental areas for over three decades. He also received three patents in dentistry, and has helped manufacture dental products and launch dental software and training companies.
With extensive academic, clinical and didactic training, he is one of only a handful of dentists worldwide who have dual Mastership awards from The Academy of General Dentistry and The International College of Oral Implantologists. Dr. Korwin is a highest honors graduate of Progressive Orthodontic Seminars, awarded to only 2 of 4,000 students in 24 years Dr. Korwin promotes excellence in preventing orally linked disease and provides highly cosmetic dental repair and reconstruction utilizing orthodontics, implants, surgery, prosthetics and sedation, with laser, digital and computer assisted diagnostics. The practice provides a one stop dental experience and coordinates with patients to maximize their dental health, ensure their comfort and minimize financial concerns.
For more information, please visit http://www.drkorwin.com or call (732) 219-8900.
Media Contact
Robert Korwin DMD
732-219-8900
http://www.drkorwin.com
###