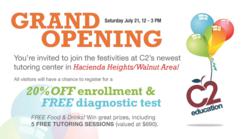 C2 Education strives to bring access to greater educational opportunities to communities across the country.
Los Angeles, California (PRWEB) July 17, 2012
C2 Education, the nation's fastest growing network of educational support centers, will honor top performing C2 students during the grand opening of a new location in the Walnut area. Located at 17134 Colima Rd in the Bixby Hacienda Plaza in Hacienda Heights, CA, the new center will provide local families with a wide range of academic services, ranging from test preparation to subject tutoring.
On Saturday, July 21, from 12 to 3 PM, C2 Education will celebrate this new center with an afternoon of Grand Opening events, including an award ceremony to recognize the amazing accomplishments of many of C2's local students. At 1 PM, C2 Education, in conjunction with the Regional Chamber of Commerce for San Gabriel Valley, will hold a ribbon cutting ceremony to herald the opening of its newest location. Free food and drink will be provided, and all attendees will be entered to win great prizes including a certificate for 5 free tutoring sessions, a $690 value. Families who attend will also have the opportunity to register for a free diagnostic assessment and consultation, a $95 value. New students who enroll within the first month of the center's opening will also receive 20% off enrollment.
The opening of this new center continues the mission of C2 Education, which is to bring higher academic standards and access to educational opportunities to communities across the country. The addition of the Hacienda Heights location marks the thirteenth C2 Education center in the greater Los Angeles area with additional locations soon to come. For more information about C2 Education, their locations, and their services, visit http://www.c2educate.com.