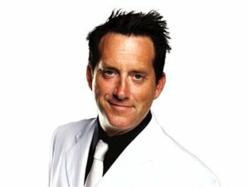 Vegas is a hard town on adults, but when the stresses of living here reach down to kids and families it rips me apart. Olive Crest just made sense.
Las Vegas, Nevada (PRWEB) July 16, 2012
Today is Anthony Cools' 46th birthday, but never prone to following convention, he will be the one handing over a gift.
The world-famous hypnotist, who headlines five nights a week at Paris Las Vegas with his trademark boundary-pushing show, will be giving a check for €10,000 (approx. US$13,000) to Olive Crest during his birthday celebration at The Drink nightclub.
Last Thursday, Cools won The Celeb Charity Challenge (CelebCharityChallenge.org), an online contest where "Superfans" upload celebrities and "Fans" vote daily, ultimately directing a pool of charitable donations to the winning celeb's favorite charity.
Each week, the Superfan who nominated the winner and one Fan who helped vote that celeb to victory have a chance to take part in a ceremonial check presentation.
Added to the contest only five days earlier by Superfan Keith Takaoka of Las Vegas, Nev., Cools overtook leaders Beyonce Knowles, Celine Dion and Donnie Wahlberg, all of whom had been climbing the ranks for weeks propelled by their legions of supporters.
"I have the greatest fan base in the world," says Cools. "My social media is normally a little twisted, so when I turned to serious, my fans saw it and supported hard." A final Twitter showdown between those fans and Wahlberg's ended in victory for Cools.
"What an amazing ride," says John Bodnar of Edmonton, Canada, who won the Fan draw and was flown in by the contest operator to meet Cools and present the check alongside Superfan Takaoka. "Voting, tweeting for support and following those conversations was one adrenaline burst after another. Anthony Cools is like no entertainer in the world, and a great charity is getting money to help children and families. Now that's a double win."
Doug Coombs, executive director of Olive Crest's Las Vegas chapter, would concur. "We are so grateful to Anthony and his fans for their support, and to The BiLLe Celeb Charity Challenge for this incredible donation which will help provide much needed programs for at-risk children and families in our community."
Olive Crest was an obvious choice for Cools, who with the longest-running hypnosis show in the city's history has been around to see its dark side. "Vegas is a hard town on adults, but when the stresses of living here reach down to kids and families it rips me apart. And this time of year is particularly hard financially. It just made sense."
Anyone 18 or older can add a celebrity or vote at CelebCharityChallenge.org, and there is no cost to participate. The winning celebrity is announced every Thursday at 9 a.m. ET.