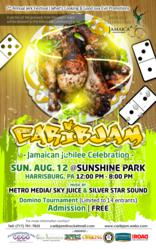 Harrisburg, PA (PRWEB) July 16, 2012
On Sunday August 12, 2012 CaribJam returns for its 7th year. This annual, hosted by What's Cooking authentic Caribbean cuisine, event brings the best Caribbean cuisine, music, dance, and cultural expressions to Central PA.
The 7th Annual CaribJam Jerk Festival will bring together professional chefs, food lovers, reggae and soca music lovers and cultural enthusiasts for a Caribbean extravaganza. CaribJam is Central PA's only annual Caribbean festival. The event is known for delivering an enjoyable experience to patron and this year's festival promises to be bigger and better than before.
The Grace Jamaican Jerk Festival features a full array of Caribbean foods including delicacies such as Jerk Chicken, Jerk Shrimp, Jerk Fruit and much more. Other attractions include live music performances and cultural presentations. Arts & crafts vendors, event sponsors and special guest will make presentations throughout the festival. The festivities will also feature a Kids Zone, Domino Tournament and Soccer competitions.
Spice up your summer and explore sumptuous Caribbean delicacies, hot music and cool island vibes of CaribJam 2012