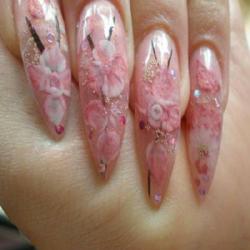 (PRWEB) July 15, 2012
Having a proper set of nail art brush is important for nail beauty. Eastern nail art brushes are specifically designed as implements for nail art. Their unique shape and texture makes them perfect for this task. Easy to clean and maintain, they can be washed using plain water when using water based colors or in nail polish remover when using oil based colors such as nail polish or gel polish.
Clients have become increasingly used to demanding intricate designs from their nail care professionals in recent years. It is important to be equipped with a decent set of nail are brushes. This new nail art brush is a great place to start. It contains 1 angled nail art brush, 1 kolinsky sable brush, 1 standard sized brush and 1 ultra thin brush.
Each of these elegant brushes is made only from top quality materials: sable for the bristles, and high grade plastic or wood for the base. If used and stored with care, these brushes have the potential for repeated use lasting quite some time.
Tips on preparation of acrylic brushes for use and storage by Eastern Nail beauty:
1. Take a clean napkin and "break" the hairs brush against it to remove the factory glue, do not put brush in the monomer or brush cleaner without first removing the factory adhesive hairs
2. Take a toothpick and remove any excess glue with a hair tightly pressed them for a clean napkin.
3. Make sure the glue is completely removed from the hair brush. Put it in a cleaner brush and rinse it. Do not put the brush directly into the vial with the tool! Pour the required amount of solution in a glass beaker and just wash the brush in it!
4. After washing the brush, dip it in pure monomer
5. Carefully push the brush on the edge of the cup by removing the maximum amount of the monomer from the brush.
6. Scroll through the brush on a clean cloth, collecting it at the end of a sharp tip.
7. Attach the brush on the desk lamp with rubber bands so that the hairs of the brush looked down.
8. Use the brush caps with extra holes and covers with slits for transportation so that the air fed to the brush. Do not store brushes in plastic caps (they stick to the hairs).
9. It is not recommended to store the brush in their cases and caps. They should only be used for transportation.