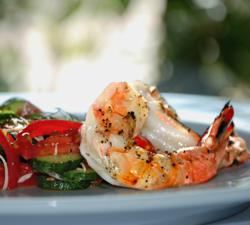 A great advantage of this recipe, says Gorji, is that Texas shrimp is universally liked. It is simple to grill and there is only one temperature to worry about - cooked!
Dallas, TX (PRWEB) July 18, 2012
Grilling fever goes viral this month as at-home chefs look for new and creative ways to entertain in the great outdoors. As a fun alternative to grilling ho-hum beef, Dallas' innovative Chef Gorji suggests trying succulent Texas Brown Shrimp in a one-two punch of hot and cold that will surprise and delight your guests. 
A great advantage of grilling this shellfish, says Gorji, is that shrimp is universally liked. It is simple to grill and there is only one temperature to worry about—cooked!" With a touch of Gorji's Primer and a quick kiss of the grill, you will turn out perfectly cooked crustaceans every time. This grilled shrimp recipe works well for dinner parties by the pool, more formal sit-downs or as an upscale addition to your summer picnic basket.
Gorji, chef-owner of the acclaimed 10-table restaurant, Canary By Gorji, created this recipe using Texas ingredients to highlight GO TEXAN, a program by the Texas Department of Agriculture (gotexan.org) that promotes Texas grown products and businesses.
Gorji's signature cuisine is upscale, modern cooking using, minimal spices and abbreviated cooking times to bring out the natural flavor of food. He regularly incorporates a "Texas Twist" into his "New Mediterranean Menu" in Dallas with such dishes as his award-winning ribeye steak with pomegranate creme sauce, his pan-fried catfish and newly added barbecued veal ribs.
Chef Gorji's own product line Gorji Gourmet Foods®, which includes Pomodoro and Puttanesca Sauce, Dipping Oil & Marinade Primer, Pomegranate Vinaigrette and Spicy Remoulade are available for purchase at Canary by Gorji Mediterranean Steak & Seafood restaurant, DFW Whole Food Markets®, and the following gourmet stores in the Dallas area: Jimmy's Food Store, Bolsa Mercado, Celebration, and Sara's Market & Bakery. The products are also available online at Artizone.com and http://www.gorjigourmetfoods.com
Canary By Gorji is located at 5100 Belt Line Road Road, Suite 402, Dallas, Texas 75254. Canary By Gorji offers a boutique wine selection and is open for dinner Tuesday–Thursday, 5-9:30 p.m. and Friday – Saturday, 5-10:30 p.m. For more information about the restaurant call 972-503-7080 or visit http://www.canarybygorji.com
 
Chef Gorji's Grilled Wild-Caught Texas Brown Shrimp Summer Salad & Tomato
SALAD INGREDIENTS
4 medium size tomatoes cut into wedges
2 petite cucumbers sliced into disks
2 oz Julienned red onion 
2 small pickled cherry peppers diced
2-3 fresh dill sprigs torn 
1 oz shredded Goat Gouda*
2 oz Gorji Gourmet Foods® Dipping Oil & Marinade Primer**
1oz fresh squeezed lime juice
Combine salad ingredients together and toss. 
SHRIMP
8 large Texas brown shrimp 
2 oz Gorji Gourmet Foods® Dipping Oil & Marinade Primer**
1/2 teaspoon butter (salted)
Brush shrimp with Gorji Gourmet Primer** and grill on high heat until firm. About 1 minute on each side. Turn only once.
Serve grilled shrimp on tossed salad.
Serves Four
(if not available substitute Parmesan)
**(if not available can substitute 2oz olive oil, Kosher salt, coarse ground pepper to taste)