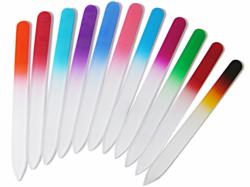 (PRWEB) July 17, 2012
Elegant glass nail files are an excellent addition to any collection of fine nail art tools. Before proceeding to the processing of the nails, women should get a good nail file. Nail files are not very inexpensive, every woman has a good opportunity to experience and select a most suitable one. Even with a good technique, using low-quality manicure nail files can lead to cracking of the nail plate.
As a major supplier of nail art products, etnai.com launches elegant glass nail files. Those nail files are manufactured in China using only the finest materials available. Each nail file is guaranteed safe and of high quality by the Institute of Health in China.
Clients who come to http://www.etnail.com are sure to feel special when treated with one of these top notch variegated glass nail files. Pulling one of these out of the drawer makes a real impression on nail art lovers. This is the way to clients to feel like a deity!
It is easy to guess that the softest blades (320 and 400) are mainly used for filing natural nails. This nail file is commonly used for the treatment of inconsistent speed polish. It is convenient to clean and align the length of the nail with rough side (which is 100), if it is very "bumpy".
Oval nail
Oval nail Serves to align the nail plate, giving shape nails, and trimming.
Nail-boomerang
Nail-boomerang is used to align the nail on the edges.
Rectangular nail
Rectangular nail is used for the same purpose as the oval. Nail files come in different shapes because each of them is more convenient to do different things. For example, a rectangular sawing is easier to shape the nails and level the surface of the nail. Nail-banana is convenient to align the nail on the edges and rounded corners. Well, oval nail file can do the rest.
Glass nail file
Glass nail file is mainly used for the sawing of natural nails.
Polisher
It is used to polish the nails by using a special oil. This is the final stage of treatment of nails before painting.