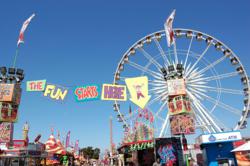 There is something for everyone at the L.A. County Fair.
Los Angeles, CA (PRWEB) July 15, 2012
The 2012 L.A. County Fair begins on Friday, August 31, 2012 and goes on thru Sunday, September 30, 2012. The fair is 90 years old with its first year being in 1922 in which it began on October 17 and went on to October 22 (only 5 days!) and it took place in a field where beets had been grown. This is testament to how things have changed over the years. In fact, the first year festivities included: chariot races, airplane wing-walking exhibition and harness racing. Fast forward to 2012 and the L.A. County Fair the largest fair in the United States and in excess of 1 million patrons visit the fair annually. In 2011 nearly 1.5 million people went to the Fair. The concert and event lineup has something for everyone and Cheap Concert Tickets has extended an exclusive customer appreciation promo code of LA-COUNTY-FAIR for special savings on any event tickets. Jan, the manager of Cheap Concert Tickets states that "Often tickets for events at the fair can be a great value so this may be your big chance to see some top notch talent at great prices." Fairgoers should first attempt to get their tickets directly through the L.A. County Fair (http://www.lacountyfair.com) office or Ticketmaster. If the event you are interested in is sold out at all the previously mentioned places check out our inventory of tickets for your desired concert event.
The 2012 L.A. County Fair brings an even more exciting concert and event lineup for county fairgoers. The schedule is below:
The Wanted Friday, August 31 (8/31/12)
Carly Rae Jepsen Saturday, September 1 (9/1/12)
Grand Funk Railroad Sunday, September 2 (9/2/12)
Karmin and Cobra Starship Labor Day Monday, September 3 (9/3/12)
Monster Truck Madness, Thursday, September 6 (9/6/12)
The B-52s, Friday, September 7 (9/7/12)
Styx, Saturday, Saturday, September 8 (9/8/12)
Average White Band, Friday, September 14 (9/14/12)
Cher Lloyd and Bridgit Mendler, Saturday, September 15 (9/15/12)
Mariachi Fiesta, Saturday, September 16 (9/16/12)
War, Friday, September 21 (9/21/12)
Old School Soul Jam, Saturday, September 22 (9/22/12)
Pistol Annies, Sunday, September 23 (9/23/12)
Demolition Derby, Thursday, September 27 (9/27/12)
Charlie Daniels Band, 38 Special and Outlaws, Friday, September 28 (9/28/12)
ASA World Championship, Saturday, September 29 (9/29/12)
The L.A. County Fair is put on by the Los Angeles County Fair Association and it takes place at the Fairplex which is 543 acres of land. There is also a hotel and exposition complex that are part of the Fairplex. This fair is meant to be a link between the public and California's agricultural industry. Fairgoers can learn many interesting things about California's history and at the same time enjoy fun things to do, feast on delicious fair food and watch phenomenal entertainment. Bring the whole family because there is a miniature garden railroad, fully operational farm and petting zoos.
Cheap Concert Tickets delivers tickets to sold out concerts and events worldwide when no one else can and they do so at discounted prices. As an affiliate of the Ticket Network Exchange, they can guarantee delivery of tickets on time for sporting events like NASCAR, NBA, NFL AND NHL, and for the hottest theater and concert events too. With Cheap Concert Tickets, customer service is a priority, for more information email support(at)cheapconcerttickets(dot)me or visit http://www.concert-news.com. This website also has sold out [iHeart Radio Music Festival tickets, discounted [Jay-Z Barclays Center Tickets and cheap Justin Bieber tickets.
Cheap Concert Tickets is in no way affiliated with the LA County Fair and any trademarked terms in this press release are for descriptive purposes only.