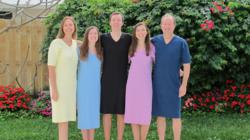 Tee-PJ nightshirts have been made here in the USA since 1955
Hobe Sound, Florida (PRWEB) July 17, 2012
Wittmann Textiles Company is expressing their gratitude to all their customers by offering $5 off when you use the promo code 57 (in shopping cart – look for promo code box on the bottom left of the cart). The family has long produced 100% Cotton Tee-PJ Nightshirts that offer customers a better way to sleep in ultimate comfort while keeping talented Americans working. Products made in the USA online and in their catalog are labeled with an American Flag. The Tee-PJ nightshirts have been made here in the USA since 1955 and designed by the founder, Max Wittmann. The Wittmanns have responded to their customer ideas and have added best ideas to their Vneck Tee-PJ nightshirts available in sizes Small to 6X-Large and many colors. Instead of weekly sales on only certain products, they offer everyday quantity pricing and free shipping over $190.00. So, now that you know that there is comfortable, affordable, made in the USA nightshirts stop by and check it out at http://www.wittmanntextiles.com.
Testimonial: Superior quality and comfort! I was given my first Wittmann Nightshirt over 20 years ago, have tried nightshirts from retail sources and know ... nothing is more comfortable or lasts longer than a Wittmann Textiles Company nightshirt - from Ron in California.
A national mail order and internet company in Hobe Sound, Florida, Wittmann Textiles Company family owned and operated continuously for 57 years. Offering made in the USA and other high quality sleepwear selling directly to the consumer at the best possible price. Wittmann Textiles Company, headquartered in Hobe Sound, FL, offers the highest quality sleepwear and advertises in Smithsonian, Elks, Sierra, National Review, and others. Wittmann Textiles Company offers great personal customer service and all products are backed by a 100% Satisfaction, Money-Back Guarantee. For more information, please visit http: http://www.wittmanntextiles.com.