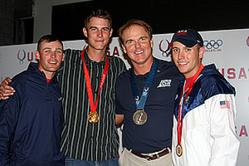 " Mental training is one of the performance keys that elite athletes rely on to make, and keep, themselves competitive both physically and mentally under the most intense pressure."
Pittsburgh,PA (PRWEB) July 16, 2012
With less than two weeks to the 2012 Summer Olympics, London is preparing to host more than 100 million people in Olympic Park and the athletes are preparing for the most intense competition of their lives. Preparations for the London Olympic Games began more than 7 years ago; well before London was even selected to host the 2012 Summer Olympic Games on July 6, 2005.
The young athletes that will be competing in the 2012 Summer Olympics have been preparing their entire lives. Staff Sgt. Josh Richmond, Pennsylvania native, earned the US quota slot earlier this year when he won a Gold Medal in Men's Double Trap at the 50th International Shooting Sports Federation World Championship. Every competition that Richmond has competed in has been a stepping stone in his path to the Olympics, Richmond most recently won a Gold Medal at the World Cup in Lonato, Italy where he said, "My motivation is great going into the Olympics."
Motivation, dedication, hard work are all very important but when you're competing on a world's stage such as the Olympics, you are competing against the top ½ of 1% in the world. Many if not all of these athletes are motivated and have a strong work ethic, they are also very skilled and physically prepared for competition but what is it that sets the Gold Medal winners apart from everyone else? According to Pittsburgh Hypnotherapist and Mental Training Coach, Dan Vitchoff, it all comes down to mental preparation and who is the most mentally prepared for competition. Richmond credits Vitchoff for playing a key mental coaching role in his competitive career, as well as in the careers of fellow soldiers and Olympic Gold Medalists Vincent Hancock, Walton Glen Eller. Using his proprietary 33 MethodTM, Vitchoff helps performance athletes improve their concentration, focus, and ability to maintain the optimal balance of relaxation and readiness even during the stress of competition." Mental training", Vitchoff explains, "is one of the performance keys that elite athletes rely on to make, and keep, themselves competitive both physically and mentally under the most intense pressure." VItchoff goes on the explain, "What makes the 33 Method so powerful is my ability to get inside the minds of my athletes and determine what it is that triggers their minds to go into the 'zone.' The 'zone' can be described as the optimal state of physical relaxation combined with a heightened state of mental clarity where athletes can compete at the best of their ability. Once we determine each client's structure, then we use the 33 Method of specific words, tones of voice and music to program their minds to achieve the 'zone' state even in the most intense competitive scenarios."
Although Vitchoff originally developed The 33 Method as a mental relaxation and conditioning program for amateur and professional athletes, he has successfully adapted his 33 MethodTM to help clients achieve personal success at his Pittsburgh, PA Hypnosis Center. Vitchoff's 33 Method hypnosis programs have a proven track record with business executives seeking higher levels of performance and individuals desiring to lose weight, stop smoking, reduce stress, overcome anxiety and conquer less than desirable habits and behaviors. Vitchoff explains, "The 33 Method helps people programs their minds for success so whether they want to be successful at winning a gold medal at the Olympics or losing weight or quitting smoking, we can use this system to help them achieve their goals." Vitchoff's natural approach to mental re-training is changing people's lives in powerful and meaningful ways.
Chad Wolfe works in a Juvenile Detention Facility and sweets were always his downfall. He was under a lot of stress and struggles with stress eatingand night time eating. He had always wanted to lose weight but never seemed to get anywhere until he started working with Dan Vitchoff at PA Hypnosis Center. Vitchoff used his 33 Method to develop a hypnosis program that was individualized specifically for Chad and he has now lost over 60 pounds, he eats healthy, exercises on a regular basis and is no longer tempted by sugar, sweets and carbohydrates.
Like Chad, Terry Moss felt like she was out of options before going to the Vitchoff's PA Hypnosis Center, she had tried everything to stop smoking and nothing worked. She had even gone to another hypnotist to no avail. She had given up hope and then her doctor recommended she call Dan Vitchoff at PA Hypnosis Center. Terry Moss is now a non-smoker and she's enjoying the holidays and looking forward to celebrating the rest of her life completely smoke free!
For media interviews or for more information about the programs at the PA Hypnosis Center, please contact Dan Vitchoff at (724) 934-8446 or via email dan(at)pittsburghhypnosis(dot)com.