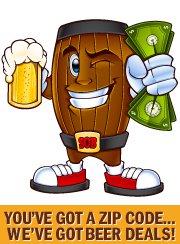 It's an insult to the great brewmasters to feel that beer needs to be mixed with anything.
Houston, TX (PRWEB) July 16, 2012
Shock Top's Lemon Shandy and Leinenkugel's Summer Shandy are two of the newer alcoholic beverages to hit the shelves this summer. While they promise to quench one's thirst in the summer heat, these drinks are "just plain gross," says SaveOnBrew.com founder Mark Davidson. In fact, there are much better ways to get refreshed and save a buck on beer during these sweltering months, he says.
The shandy goes by many different names in America. A traditional shandy is made with light beer and lemonade, but there is also a "Brass Monkey" (beer and orange juice), a "Snake-Bite" (beer and cider), a Texas "Gringo Honeymoon" (beer and lime juice), or a "Cincinnati" (beer and 7-up). Some people drink these beer cocktails to find refreshment on a hot day, while others look at it as a way to save money on beer.
"This growing trend disturbs me deeply," says SaveOnBrew's Davidson. "It's an insult to the great brewmasters to feel that beer needs to be mixed with anything. Besides, people need only input their zip codes at our website to find the lowest local prices on the beers they love most. There is no need to start rationing beer. This isn't World War II."
He adds that SaveOnBrew.com lists many different beers that are truly refreshing on a hot day, such as:

Stella Artois
Shock Top
Blue Moon
Widmer
Rolling Rock
Corona
Davidson explains that his beer price search engine also caters to the "fruitier crowd" by listing the lowest prices for Woodchuck, McKenzies and Angry Orchard hard ciders, as well as Mike's Hard Lemonade, Bartles & James, and Seagram's. To avoid indigestion and terrible hangovers, Davidson recommends choosing to drink these fruity beverages or beer – not both, and never mixed together.
"It's very hard for the liver to metabolize a lot of sugar and alcohol at the same time, so drinking too many shandys will leave you feeling like you've just sucked back a full bottle of wine or champagne. It's not a good feeling," he adds.
Beer drinkers can find a number of suggestions at the new SaveOnBrew blog, which has recently chronicled the best beers to pair with hot dogs, the best beers for a barbecue, and the best summer beers. There are also informative articles on how to avoid hangovers and how to find a good "light" beer. Thirsty beer drinkers are invited to visit http://www.SaveOnBrew.com for more information.
About SaveOnBrew.Com: Founded in 2010 to help thirsty beer drinkers across the United States find the lowest advertised prices for one of the world's most popular beverages.