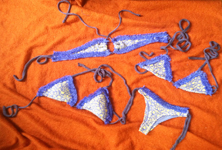 This is not your mother's knitted bikini!
Miami, FL (PRWEB) July 17, 2012
Maggie May Swimwear, an enormously popular knitted bikini line, is set to unveil the all newly-designed Brasilia 2013 knitted bikini line at Salon Allure, the high end swimwear trade show which will be held at the W Hotel in Miami, July 21-24th. Maggie May Swimwear will be showing in suite 528.
"The option of adding a well-fitting bandeau knitted bikini top seemed a good choice for this year's line," said Magdalena Trever, the "Maggie May" behind Maggie May Swimwear.
In addition to adding the bandeau top, Trever has also added the option of removable padding in both the bandeau and triangle tops of her popular knitted bikini line.
"This is not your mother's knitted bikini," says Trever. "I've perfected the knitted bikini with a strong construction technique to make it hold up amazingly well both in and out of the water."
Unlike crocheted bikinis, which are made from loosely woven thin yarn, a Maggie May knitted bikini is actually hand knit using a variety of all natural yarns in different gauge sizes which creates a beautiful pattern and will not stretch out or bag when wet.
"I'm looking forward to unveiling my new line: Brasilia 2013, a vibrant-colored line which captures all the excitement and pulse of Brasil," said Trever.
Maggie May Swimwear will unveil Brasilia 2013 at the W Hotel, suite 528 in Miami July 21-24th.